from Day by Day with the Persecuted Church

If we live, we live to the Lord; and if we die, we die to the Lord. So, whether we live or die, we belong to the Lord.
(Romans 14:8)
Oswaldo Magdangal
It was the seventieth day of his captivity. The next day, he would be hanged. Brother Wally wrote a farewell letter to his wife and after that he prayed together with a fellow-prisoner. They recalled Paul and Silas, who praised the Lord in prison, after which the Lord made the walls of the prison shake.
They started to pray, too, from ten o'clock in the evening until eleven, but there was no shaking. Brother Wally looked at the bars and said, "Lord, if we are hanged, we will be with You. It is always the story of Jesus Christ. If we are set free, You will still be with us - it's still the story of Jesus. So there is no room for Satan, no room for a defeat. Whether we are hanged or released, it is Your victory, Lord. If we are hanged, another chapter will be added to Acts - two more martyrs like Stephen. If we are released, it will be Acts 29, for then the Gospel will be spread even further.
At a quarter past eleven, a high ranking police officer came in. Half an hour later we were released and I was put on a plane to Manila. I was free! On 25 December, Christmas Day, at eleven o'clock in the morning, we arrived in Manila."
"If we live, we live to the Lord; and if we die, we die to the Lord. So, whether we live or die, we belong to the Lord."
Oswaldo Magdangal from Saudi Arabia. This Filipino brother ministered in Saudi Arabia where he testified of his Savior even while being threatened with hanging.
Copyright [C] 1995 Open Doors International. Used by permission.
Click here to sign up for a free monthly newsletter from Open Doors about persecuted Christians.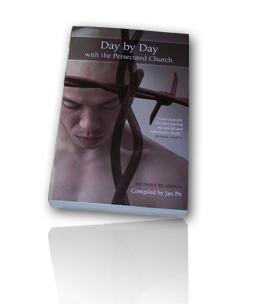 Day by Day with the Persecuted Church
compiled by Jan Pit with a forward by Brother Andrew (paperback, revised 2000)
Compelling wisdom from the pen of actual believers living amidst persecution, you'll be connected to the suffering, courage, and depth of life that exists in the harshest places in the world. Each of these 365 thought-provoking devotions will deepen your understanding of Christian persecution and provoke you to pray for our brothers and sisters with a new found depth.
To order your copy of this devotional, click