from Day by Day with the Persecuted Church

Then it was said amongst the nations, "The Lord has done great things for them." The Lord has done great things for us and we are filled with joy. (Psalm 126:2,3)
Open Doors Contact Person
Some time ago, while travelling in central Cuba, we wanted to visit a pastor we had never met before. We only had his name and address. We had no idea how old the pastor was or to which church he belonged. We had just brought his address along in case we would come near his home. Today was the day. When we arrived at the house the door was opened by an elderly woman. We mentioned the name of the pastor, after which she invited us into her home. She showed us a picture on the wall. "That is the man you are looking for," she said. "He was my husband, but he died many years ago."
We felt ashamed, very ashamed. We did not know what to say. Before we left we gave the woman what we had brought for her husband, a Study Bible. When she saw it she exclaimed, "I have never been visited by a foreign missionary, but I have prayed for a Study Bible for twenty years. Today God has answered my prayer and released me from my prison of loneliness. He sent you and you gave me the greatest gift I had prayed for. Thank you for coming."
We left a woman filled with joy. We were there too late, and yet on time.
Take a moment today to give thanks to the Lord for what He has done for you.
Copyright [C] 1995 Open Doors International. Used by permission.
Click here to sign up for a free monthly newsletter from Open Doors about persecuted Christians.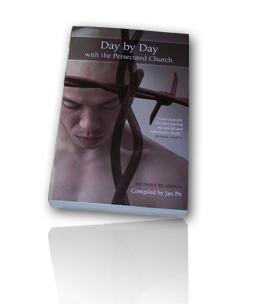 Day by Day with the Persecuted Church
compiled by Jan Pit with a forward by Brother Andrew (paperback, revised 2000)
Compelling wisdom from the pen of actual believers living amidst persecution, you'll be connected to the suffering, courage, and depth of life that exists in the harshest places in the world. Each of these 365 thought-provoking devotions will deepen your understanding of Christian persecution and provoke you to pray for our brothers and sisters with a new found depth.
To order your copy of this devotional, click