I am a huge fan
of the Internet, for thousands of reasons. And right up there at the top: Reviews. I have come to count heavily on the opinions of others before trying out a new recipe, buying something online, trying a new restaurant, booking a hotel or hiring a service provider. But, I am learning, reviews are not infallible. There is a fine art emerging for how to use a review, and also how to write one.
Security in numbers.
It is not wise to rely on a single online review. You cannot know if the review is an "inside job," meaning the best friend or mother of the new restaurant's owner posted a 5-star review. However, if there are 27 reviews averaging 4-stars plus the one you think might be bogus, that's a recommendation you should take seriously. It's possible that many others happen to agree with "mom."
Bogus reviews.
Just because there are lots of reviews for the items you are researching, that doesn't necessarily mean that all of the reviews are viable. Read them carefully. Immediately discount any reviews that start out, "I didn't actually read this book," or "I haven't really eaten here, but I've heard ..." You want to consider solid, honest and reliable reviews. You'll learn quickly how to spot them.
Mandatory consideration.
Never buy anything on
www.eBay.com
without first reading the seller's feedback. You can learn a lot, like just what kind of a person you are dealing with, how he or she ships products and how honest they are with their product descriptions. There are other sites where you should always read the reviews.
www.Zappos.com,
the online shoe retailer, is a good case in point. Zappos reviewers are amazing. Most give very detailed reviews for how shoes fit ("true to size" or "they feel small," etc.). You'll learn more about how shoes look and feel, than you might have known existed. Allrecipes.com is another review-heavy site. After reading several dozen reviews for a single recipe, you may feel like you've just enrolled in culinary school.
Assessing the negative.
As a member of
www.AngiesList.com
, I have learned to scrutinize carefully a single negative review for a service or health provider. That's because I know human nature. That reviewer could have had a really bad day or an ulterior motive having nothing to do with the service -- choosing, instead, to use the review process as a means of revenge. AngiesList.com does allow a service provider to post a rebuttal or explanation.
Write reviews.
Customer reviews are only as reliable as those who write and submit them. Each time you offer an objective, honest review, you are helping others. Be brief, honest and thorough. Don't just say you love the shoes, say how they fit, if they arrived on time, how they were packed, how was it to deal with customer service, would you buy from this site again, and so on. Give the kind of review you would enjoy reading.
November 19, 2010
©Copyright 2010 Mary Hunt. Everyday Cheapskate is a Registered Trademark.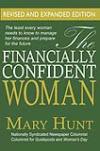 Check out Mary's recently released revised and expanded edition of The Financially Confident Woman (DPL Press, 2008).
Debt-Proof Living was founded in 1992 by Mary Hunt. What began as a newsletter to encourage and empower people to break free from the bondage of consumer debt has grown into a huge community of ordinary people who have achieved remarkable success in their quest to effectively manage their money and stay out of debt. Today, "Debt-Proof Living" is read by close to 100,000 cheapskates. Click here to subscribe. Also, you can receive Mary's free daily e-mail "Everyday Cheapskate" by signing up at EverydayCheapskate.com.