The X-Ray
by Berni Dymet
1 Cor. 6:18-20 Shun fornication! Every sin that a person commits is outside the body; but the fornicator sins against the body itself. Or do you not know that your body is a temple of the Holy Spirit within you, which you have from God, and that you are not your own? For you were bought with a price; therefore glorify God in your body.
The other day, I was heading to our office and I walked past a man – I'm guessing in his late fifties, early sixties. He was holding one of those large envelopes from an X-Ray clinic, containing – obviously – X-Rays. 
Now, he was overweight, hugely overweight and he was smoking a cigarette. And I remember thinking to myself … now I'm no doctor, but the problem's pretty obvious to me. They can take as many X-Rays as they like and it's not going to make any difference. 
What we do with our bodies – matters. Lots of people kind of over-spiritualize the whole Christianity, faith thing.  Recognizing the spiritual dimension is good, but this guy – he was abusing his body and wondering why he was sick. This body of mine and your body is an amazing – utterly amazing thing. It's the only one we'll ever get on this earth.
God went to a lot of trouble in the design and manufacture. And my hunch is, he expects us to look after it.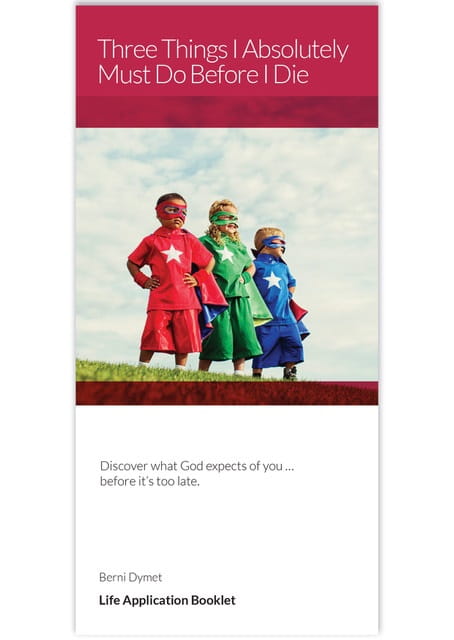 YOUR FREE BOOKLET – THREE THINGS I ABSOLUTELY MUST DO BEFORE I DIE
Here's a vital question for you to consider: If you died tonight, would you be ready for eternity? Now, many people know that it's all about having a simple faith in Jesus Christ. Nothing more, nothing less. But … do you have the sort of faith that Jesus talked about? To help you answer that question for sure, that's what our latest Life Application Booklet is all about: Three Things I Absolutely Must Do Before I Die. We would absolutely love to send you your very own FREE copy to help you make sure that you have the right answer, to the most important question of all.