Raised to new life
"If you are a Christian, it's a serious misunderstanding to think of yourself as having both an old and new nature. We do not have a dual personality! Assuming the dual nature of the believer could easily lead one to excuse all kinds of sins by blaming them on the old nature. The popular theological concept of the old man and the new man fighting each other is not biblically accurate." —John MacArthur
Personally, I think there is plenty of bad news in the world. And though I'm not sure why, Christians seem to be wired for it. It's like we feel guilty if we feel good about ourselves or something, or that we have to manufacture some sort of conflict to feel significant or garner sympathy. Yeah, bad news sells, I guess. But the good news is that you don't have to buy it, particularly when it comes to who you are in Christ.
A lot of bad news about our identity comes from a good dog/ bad dog analogy. It goes like this: Your nature is like two dogs, a bad dog and a good dog. In every tempting situation, the dogs get in a fight to see who is going to win. You just hope the good dog wins so you don't make a bad choice… and to be on the safe side, it's best to avoid any tempting situation at all, because if you feed the bad dog with bad opportunities, he's going to win every time. It's Taoism'syang. It's Star Wars' dark side—the bad news. And if you buy it, you'll set yourself up to fail at least half the time. You'll never find victory over sin. It is difficult to rest in Christ, trusting that He's living through you if that's how you see it.
The truth is that the bad dog is a dead dog. He's in the past, freeing us for transformation today, and promising an incredible future:
Like the rest, we were by nature deserving of wrath. But because of his great love for us, God, who is rich in mercy, made us alive with Christ even when we were dead in transgressions—it is by grace you have been saved. And God raised us up with Christ and seated us with him in the heavenly realms in Christ Jesus, in order that in the coming ages he might show the incomparable riches of his grace, expressed in his kindness to us in Christ Jesus. —Ephesians 2:3-7
The choice is yours. How do you see it? When temptation comes, will you see two dogs fighting to an uncertain conclusion? Or do you see yourself alive with Christ, seated with Him in the heavens?!
Stop, think, meditate, and then rest in it. I'm telling you, it makes a huge difference.
Holy Spirit, I am so thankful that You live in me—not a couple of dogs. I rest in Your promised presence. I surrender to Your strength and Your peace when temptation comes my way. Thanks for this good news! Amen.
Listen to Pete, Jill & Stuart Briscoe on the Telling the Truth broadcast at OnePlace.com
SPECIAL OFFER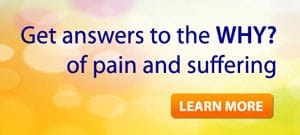 Jill Briscoe with answers to the "Why?" of pain and suffering!
"Why?" is one of the most enduring questions we ask when confronted with trials, pain, and suffering. Why does God allow such things, particularly in the lives of believers? And how are you supposed to react to them? Is it okay to be angry? To question God? To be shaken in your
faith
?
Jill Briscoe explores these tough questions and finds answers in her study of the Book of Job called
Out of the Storm and into God's Arms.
With study questions at the end of each chapter,
Out of the Storm
shows that you don't have to just survive hard times. You can actually thrive during them!
Out of the Storm
is our gift to thank you for your donation of any amount below to help Telling the Truth continue to help others like you experience the exciting, fulfilling, abundant Life Christ offers. So please request a copy when you give.
Thank you for your generosity to help other experience real Life in Christ!