The ultimate release
"Thou hast made us for Thyself, O Lord; and our hearts are restless until they rest in Thee." – Augustine
Life is a struggle. Anybody will tell you that. No matter where we end up, we will wrestle with problems, be they financial, emotional, physical, or a host of other difficulties. As many as there are, so are there more tactics to deal with them. Fathers of earth will have millions of different solutions, be it to let them sort out themselves or to slam your nose to the grindstone until there's nothing left.
Unlike either of those stances, our heavenly Father tells us one thing that encompasses any problem we might face:
"…and I will give you rest."—Exodus 33:14
God will give us rest? Some of us had fathers who pushed and pushed us to the brink of mental and physical exhaustion. God the Father is different. He comforts us.Yes, He has things for you to do—and those things are very important—but Scripture makes it clear that those things are done by depending on God's strength working through us, rather than by us using our strength to try to do things for Him.
"It was I [God] who taught Ephraim to walk, taking them by the arms; but they did not realize it was I who healed them. I led them with cords of human kindness, with ties of love. To them I was like one who lifts a little child to the cheek and I bent down to feed them."—Hosea 11:3-4
In this passage from Hosea, we see that God not only takes our burdens, but He WANTS to take them because of His unending love for us! There is no limit to what He is able to handle, nor to what He will do for you. That brings up a pretty deep question:
What have you been struggling with in your own strength, rather than trusting it to the Father who loves you?
Father, take the burdens I've placed on myself. I can't tackle these things on my own. I release what I've been trying to do myself to You. I give up trying on my own. I trust in Your strength so I may constantly rest in Your comfort. Amen.
Listen to Pete, Jill & Stuart Briscoe on the Telling the Truth broadcast at OnePlace.com
SPECIAL OFFER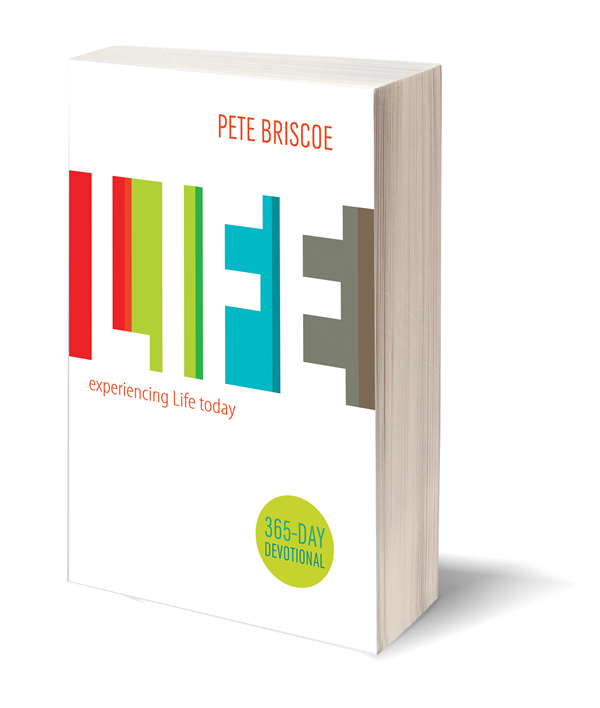 Our gift to help you experience Life in 2013!
God wants you to experience an abounding, overflowing, deeply rich, and satisfying life in which the LIFE of Christ is living through you!
That's why we want to send you Pete Briscoe's new 365-day devotional, "Experiencing Life Today"!
This vibrant devotional is filled with short, rich teachings for every day of the year that will encourage and strengthen your faith and your relationship with the Lord. In it, Pete touches on topics and questions we all face, and points you to God's Word for guidance, wisdom, and hope!
The Experiencing Life Today 365-day devotional is our gift to thank you for your gift of any amount, so please request your copy today!