The God Paradox
"My deepest awareness of myself is that I am deeply loved by Jesus Christ and I have done nothing to earn it or deserve it." ―Brennan Manning,The Ragamuffin Gospel
Maybe it was through art, maybe through fiery, angry sermons. I don't know where, for sure, but somewhere along the line many of us got the idea that God the Father is angry, and He's sitting up in heaven on a cloud… keeping score… all the time. He has a list of laws and rules in one hand and a lightning bolt in the other. He's just waiting for you to screw up. And when you do? Kapow!
Is that accurate?
Not even close. Look at what God told Moses when he requested God's presence:
"I will do the things you have askedbecause I am pleased with you…" (Exodus 33:17).
God is pleased with us.God told Moses that He would be present among them because He was pleased with him. Now you might say, "Yeah, that's because it's Moses. I am no Moses." Moses is supposed to be this great godly leader, right? Well, he's supposed to be, but he's not. Do you know what happened right before this passage? Moses' followers built a huge, golden cow and worshiped it instead of God. If Moses was supposed to be some great leader, shouldn't his followers like, maybe, follow? But in reality, his people were a mess… just like we are, just like you are. But still, God finds pleasure in us, in spite of poor performance.
Lord, it's so hard to understand that even though humanity is broken, You still love us, even in the worst of times. Thank You for finding pleasure in me in Christ where the world only sees failure! Amen.
Listen to Pete, Jill & Stuart Briscoe on the Telling the Truth broadcast at OnePlace.com
SPECIAL OFFER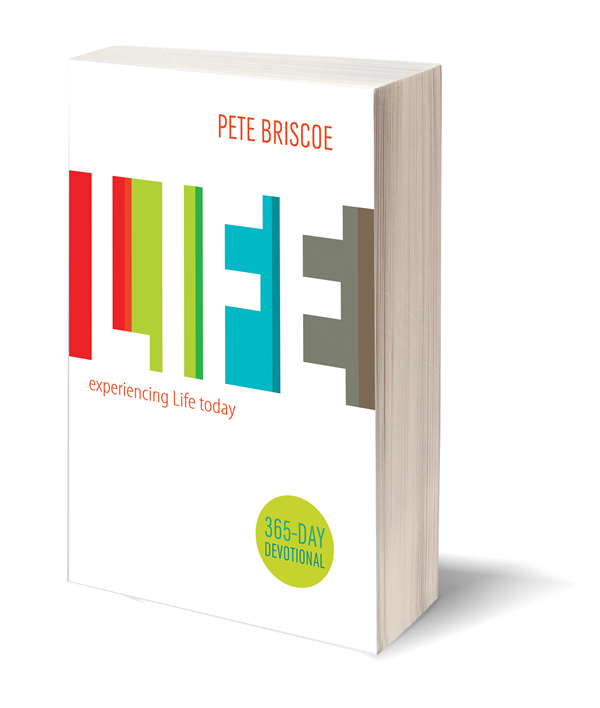 Our gift to help you experience Life in 2013!
God wants you to experience an abounding, overflowing, deeply rich, and satisfying life in which the LIFE of Christ is living through you!
That's why we want to send you Pete Briscoe's new 365-day devotional, "Experiencing Life Today"!
This vibrant devotional is filled with short, rich teachings for every day of the year that will encourage and strengthen your faith and your relationship with the Lord. In it, Pete touches on topics and questions we all face, and points you to God's Word for guidance, wisdom, and hope!
The Experiencing Life Today 365-day devotional is our gift to thank you for your gift of any amount, so please request your copy today!