Extreme Makeover: YOU edition!
"The atheist finds himself enslaved by the need to prove himself an unbeliever. In denying the existence of God he finds nothing greater than himself and other selves in the universe. His greatest creed centers in 'I believe in myself.'" -D. Bruce Lockerby
One of my friends from San Antonio has a kid named Ben that I've heard some about. When this guy was a wee little tyke, he wasn't so different from your average five-year-old: his room was messy, he never ate his vegetables, and he painted the walls instead of paper… but never had his dad seen someone so young care so much about his appearance. He used to stand and yell for mom and dad with his arms outstretched, prompting his parents to rush into the room in response to the alarm. The emergency? Sleeves touching the wrists, or shoelaces with uneven loops! (Imagine what he was like about the REST of his wardrobe!)
It was an early sign of a future, larger struggle he would deal with—a struggle we that we all wrestle with:
Obsession with outward appearances
Focus on earthly belongings
Satisfaction from impressing others through looks and actions
That's the bad news. The good news is that God is able to transform us.
God is in the business of remodeling. Big time. He is able to transform our spirits and our minds, and one day He will even transform our bodies. Sometimes the remodeling is painful and ugly. He comes in and tears out the walls, the furnishings, the old appliances that He knows must go if we are to reflect Jesus Christ outward through authentic lives. He can take our broken lives and distorted beliefs and transform us according to the truths of Scripture. One day, He will even take our decaying bodies and transform them into something glorious, reflecting His glory.
But our citizenship is in heaven. And we eagerly await a Savior from there, the Lord Jesus Christ, who, by the power that enables him to bring everything under his control, will transform our lowly bodies so that they will be like his glorious body.—Philippians 3:20-21
Almighty God, please break my obsession with earthly appearances and possessions. I come to You knowing that this may hurt—that I'll come to terms with things about myself that I'm ashamed of. Regardless, I ask that You would get rid of the things that keep me in worldly bondage, so I can be free in Christ to be all that You made me to be now and in the future when You will make all things glorious. Amen.
Listen to Pete, Jill & Stuart Briscoe on the Telling the Truth broadcast at OnePlace.com
SPECIAL OFFER
Discover the exciting power of prayer!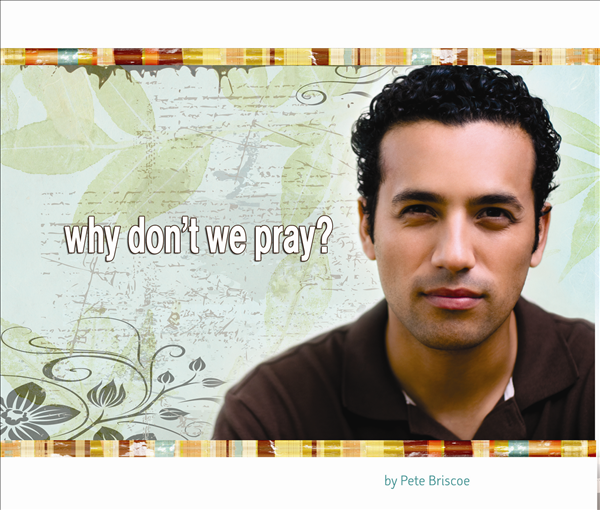 Do you ever feel like prayer is a foreign language? It can often seem so complicated and frustrating that you just push it to the side and neglect prayer altogether. But it doesn't have to be this way.
That's why we'd like to send you a free copy of Pete's booklet Why Don't We Pray? Looking at the practical day-to-day reasons we struggle with prayer, Pete shares how to avoid common hurdles that tend to trip us up, encouraging reminders of why prayer is so important, and practical tips for creating an effective and powerful prayer life.
Our booklets are created to give you teaching that is small enough to take with you as you travel through life, but big enough to make an impact. So request your free copy of Why Don't We Pray? today and find the excitement and joy in prayer that God intends for you!