Christ in Action
"Although my memory's fading, I remember two things very clearly. I'm a great sinner and Christ is a great Savior."–John Newton, former slave ship captain and writer of "Amazing Grace" as quoted in the film Amazing Grace
Cynthia lay on my office floor in the fetal position, crying, for four hours.
One of the most gifted worship leaders I had ever seen, she was a mainstay on our platform, leading our Body in worship practically every week. But her world was now crashing down around her. I had confronted her with facts that exposed her secret shame.
Cynthia had been having an affair.
For two weeks, her life hung in the balance as she retreated into a cloud of inconsolable grief and despair. Full of sorrow, yet still unrepentant, no one knew if she would turn or continue. But God was already proving Himself able. He worked a miracle in the heart of her husband. In the midst of his devastation and brokenness, Roland found freedom in the choice of forgiveness and made the decision to seek reconciliation if Cynthia would choose to stay.
As the supernatural power of Christ moved in her life, Cynthia came to the end of herself, turned away from her sin and toward her God of grace, and emerged exhausted but ready to receive love and help from the body of Christ. In the months that followed, God worked through a group of faithful, merciful, Holy Spirit-led women, who surrounded Cynthia with loving support and accountability. The Almighty empowered, upheld, transformed, and purified this broken couple, reshaping them into healthy, surrendered, and thoroughly authentic people—with nothing to hide and everything to gain from their Father Almighty.
Almost two years to the day of my confrontation, Cynthia stood on the platform of our church sanctuary again, the first time since her sin had surfaced. She confessed it all, describing how unsuspecting she had been in the journey that had led to her sin, and how, in hindsight, she could clearly see that she "settled" in her marriage, believing "this is as good as it's going to get", instead of longing for the fantastic marriage God had intended for them. She explained that she had fallen for the enemy's lie, believing that her unmet needs could be taken care of in the arms of another man, rather than in the arms of her heavenly Father. She spoke of what happened when the lie was revealed for what it was… the despair, the depression, the brokenness… and finally the discovery and acceptance of the love, goodness, and grace of God.
Humbly she asked for forgiveness from the congregation she had betrayed. And then, taking the microphone for the first time in nearly two years she sang, "Amazing Grace, how sweet the sound…"as if singing it for the first time. Every note and every lyric of grace was delivered with fresh meaning—a life that had been transformed by an able God who is both almighty and the perfect Father.
But when the kindness and love of God our Savior appeared, he saved us, not because of righteous things we had done, but because of his mercy.–Titus 3:4-5
Almighty God of Amazing Grace,10,000 years in heaven will not be enough to sing Your praise, but I give You my heart now, that today my life would be a song of thankfulness for your mercy. Amen.
Listen to Pete, Jill & Stuart Briscoe on the Telling the Truth broadcast at OnePlace.com
SPECIAL OFFER
Discover the exciting power of prayer!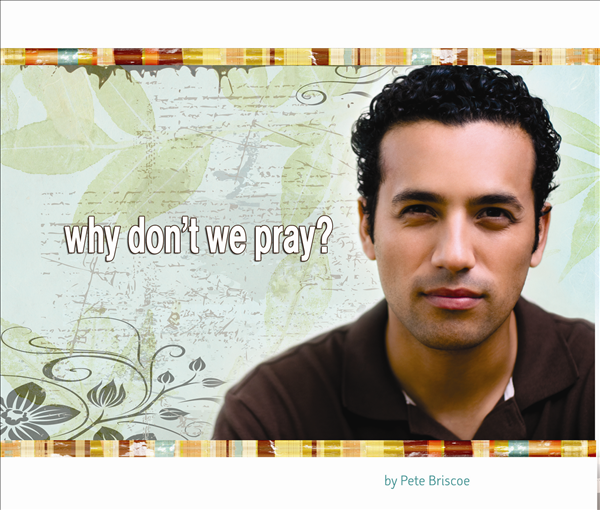 Do you ever feel like prayer is a foreign language? It can often seem so complicated and frustrating that you just push it to the side and neglect prayer altogether. But it doesn't have to be this way.
That's why we'd like to send you a free copy of Pete's booklet Why Don't We Pray? Looking at the practical day-to-day reasons we struggle with prayer, Pete shares how to avoid common hurdles that tend to trip us up, encouraging reminders of why prayer is so important, and practical tips for creating an effective and powerful prayer life.
Our booklets are created to give you teaching that is small enough to take with you as you travel through life, but big enough to make an impact. So request your free copy of Why Don't We Pray? today and find the excitement and joy in prayer that God intends for you!