From Dear Jesus by Sarah Young
Nothing is wasted when you walk close to Me. Even your mistakes can be recycled into something good, through My transforming grace.
Dear Jesus,
I desperately want to believe that my mistakes can somehow be used for good in Your kingdom. The truth is, I hate making mistakes! This attitude can easily translate into hating myself for having messed up. When I let my mind run freely at such a time, I find myself fantasizing about what might have been—if only I had acted or chosen differently. I definitely need a strong dose of Your transforming grace!
Beloved, the best strategy for accepting yourself, even when you make mistakes, is living close to Me. This nearness helps you see things from My perspective. You tend to view yourself as someone who should be almost perfect, making very few errors. My perspective is quite different: I see you as My beloved child—weak in many ways, prone to wandering from Me. However, your weakness and waywardness cannot diminish My constant Love for you. Moreover, My infinite wisdom enables Me to take your errors and weave them into an intricate work that is good.
You need to accept not only yourself but also the choices you have made. Fantasizing about having done things differently is a time-wasting trap. It is impossible to live close to Me while you're indulging in such unreality. The more you fantasize, the further from Me you wander. When you realize this has happened, turn around and run back to Me! Take time to talk with Me and relax in My Presence. Your perfectionist tendencies will dissolve as you soak in My transforming grace.
As a father has compassion on his children, so the LORD has compassion on those who fear him; for he knows how we are formed, he remembers that we are dust. - Psalm 103:13–14
May your unfailing love be my comfort, according to your promise to your servant. - Psalm 119:76
In him we have redemption through his blood, the forgiveness of sins, in accordance with the riches of God's grace that he lavished on us with all wisdom and understanding. - Ephesians 1:7–8
Order your own copy of Dear Jesus by Sarah Young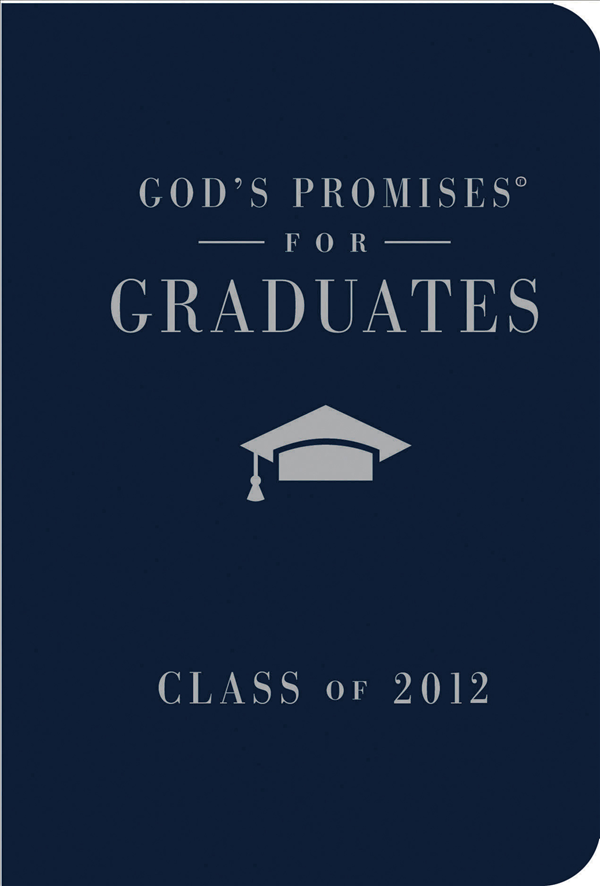 Give God's Guidance to the Graduate in Your Life
God's Promises for Graduates is a beautiful keepsake gift and resource for your graduate as they head off to face new challenges and opportunities. Using Scripture, topics such as character, integrity, loyalty, focus, respect, and perseverance are addressed along with a special section to journal memories, silky ribbon marker, 2012 charm, and silver-gilded edges.