First things first
"It ain't over till it's over." —Yogi Berra
I suppose that if I had been there, I would've just stood with my mouth open looking up, too. What would you have done if you had just seen Jesus ascended to heaven? One minute He is standing there with you, giving some sage instruction. The next minute, He is lifted into the skies. A couple of angels were there, but apparently they didn't capture the awe of the moment, because they asked one of the most outlandish questions I've ever heard:
"Men of Galilee," they said, "why do you stand here looking into the sky?"
(I guess angels are used to seeing people zip around in the air. The disciples? Not so much.) Thankfully, the angels didn't dwell on the disciples daze and got right to the point:
"This same Jesus, who has been taken from you into heaven, will come back in the same way you have seen him go into heaven."—Acts 1:11
In other words, the angels were saying, "Quit standing there like a bunch of baby birds waiting for a worm. Jesus came, He saw, He gave it all, and He'll be back. What are you going to do now?"
As usual, the context of this event is critically important. Jesus had given them the next step just before He ascended. He promised to send the Holy Spirit, and He told them not to do anything until that had happened.
"But you will receive power when the Holy Spirit comes on you; and you will be my witnesses in Jerusalem, and in all Judea and Samaria, and to the ends of the earth." After he said this, he was taken up before their very eyes, and a cloud hid him from their sight. —Acts 1:8-9
The disciples returned to the upper room where they had been staying in Jerusalem, reflected on everything that had happened and all that Jesus had told them, and then, like a rushing noise from heaven, the Spirit of God came upon them, giving them everything they needed for the mission ahead.
The pattern is powerful. The implications for us today are important. These are critical days for humanity. History is being played out in front of us and eternity is being shaped here in the present. Jesus said He was going to come back. In the meantime, we don't want to stand around looking up into the sky with our mouths open. But neither do we want to rush ahead into action in our own strength. Jesus' design is for us to live in dependence on His Spirit within us, as we live out the mission He has already prepared for each of us.
Each day brings us one day closer to His return. Each day is an irreplaceable opportunity to allow Christ to live through us to further His Kingdom for eternity. Seize the day, my friends. Seize today.
Jesus, I want to be a part of the great witness that is reaching the remotest parts of the earth. But right now, right here, I'm trusting in the power of Your Spirit in me to lead me and empower me to do whatever it is that You have called me to do. I place my whole life in Your hands today, asking that You would live through me in any way that You choose. Amen.
Listen to Pete, Jill & Stuart Briscoe on the Telling the Truth broadcast at OnePlace.com
SPECIAL OFFER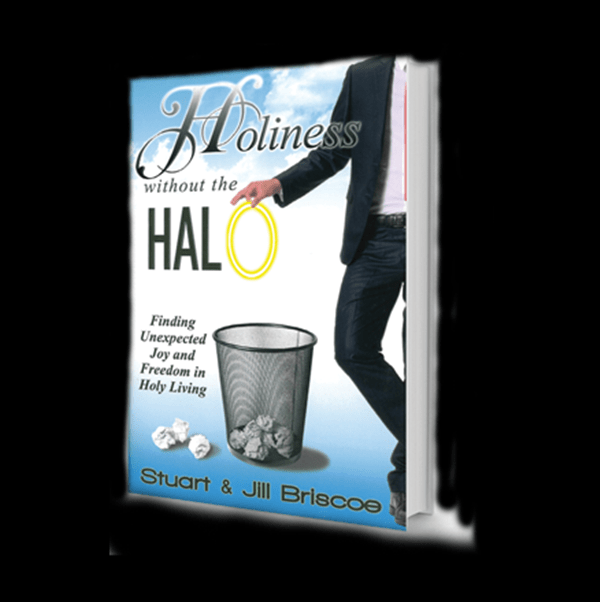 Discover the reward of a holy life!
You've probably heard the command from Scripture to "Be holy as your heavenly Father is holy." But how are you supposed to be holy like God in the stress and busyness of everyday life?
In their latest book called Holiness Without the Halo, Stuart and Jill Briscoe will show you how you can live a holy life as you let Christ express Himself through you in the small moments every day.
Holiness Without the Halo is our gift to thank you for helping people around the globe encounter God's holiness in a whole new way. So please request your copy when you give to Telling the Truth today.