Does what works really work?
"The end may justify the means as long as there is something that justifies the end." ―Leon Trotsky, Communist revolutionary and Marxist theorist
There probably isn't a single one of us who hasn't at one time, told someone this:It doesn't matter if you win or lose; it's how you play the game.
Of course, we only say that to losers, don't we? In our culture "the win" means everything. Our motto is "If it feels good, do it!" We should always pursue the greatest happiness for the greatest number of people. (Sounds like our political "democracy," doesn't it?) Like Trotsky and the early communists, this quickly erodes into the end justifying the means. It's called Utilitarianism, a mistaken philosophy that says, "It doesn't matter what's right; it only matters what works."
The problem, of course, is that trying to find happiness in circumstances is contrary to finding joy in Christ. When we pursue pleasure and happiness instead of God (rather than pursuing pleasure and joy in God), we immediately make idols out of the things we hope will give us life. Those idols just can't stand on their own, and Jesus won't stand for them when He returns. The Bible presents an entirely different paradigm:
Therefore, I urge you, brothers and sisters, in view of God's mercy, to offer your bodies as a living sacrifice, holy and pleasing to God—this is your true and proper worship.Do not conform to the pattern of this world, but be transformed by the renewing of your mind. Then you will be able to test and approve what God's will is—his good, pleasing and perfect will. For by the grace given me I say to every one of you: Do not think of yourself more highly than you ought, but rather think of yourself with sober judgment, in accordance with the faith God has distributed to each of you. —Romans 12:1-3
Utilitarianism is one of the philosophical mines that is ready to explode and take down your ship. If you head into those waters, only destruction and pain await you and those around you. Thank God, that through His Scriptures, He has told us the truth. He has provided a new and living way to anyone who chooses a safe course.
Holy Spirit, I believe that You are in me and ready to live through me. I refuse to live by what works, rather than by You. I don't want to be conformed to the world. I present myself to God as an instrument of worship instead—a living sacrifice by His grace through faith. Amen.
Listen to Pete, Jill & Stuart Briscoe on the Telling the Truth broadcast at OnePlace.com
SPECIAL OFFER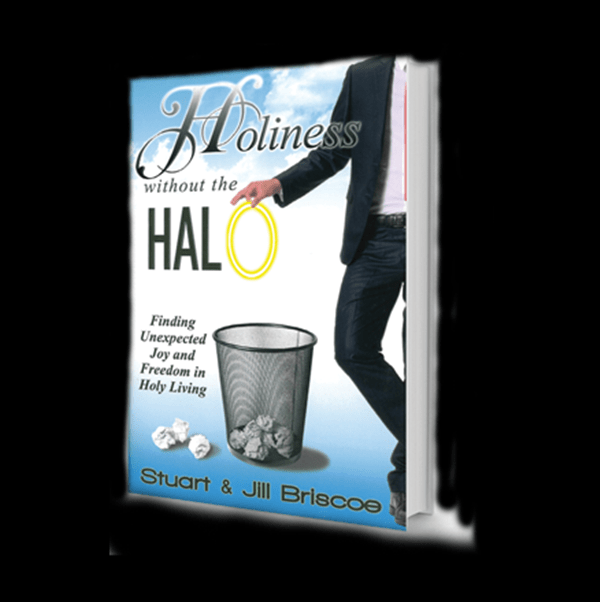 Discover the reward of a holy life!
You've probably heard the command from Scripture to "Be holy as your heavenly Father is holy." But how are you supposed to be holy like God in the stress and busyness of everyday life?
In their latest book called Holiness Without the Halo, Stuart and Jill Briscoe will show you how you can live a holy life as you let Christ express Himself through you in the small moments every day.
Holiness Without the Halo is our gift to thank you for helping people around the globe encounter God's holiness in a whole new way. So please request your copy when you give to Telling the Truth today.