The 5 P's of Ethical Decision Making – Part III
By: Rick Boxx
November 7, 2012
Lee Strobel highlighted in a talk at Woodmen Valley Chapel the 5 P's of Ethical Decision Making. The third P is Principles. Lee urges us to make our decisions by testing them against Biblical principles.
He claimed that 50% of ethical decisions are based on emotion. When we're in the heat of a challenging situation, emotions like fear, greed, or anger can lead us into a very poor decision.
Pausing to consider how your proposed decision lines up with Scripture is a much more thoughtful and productive way.
Psalm 119:9 teaches, "How can a young man keep his way pure?By living according to your word."
The next time you're faced with an ethical dilemma, don't allow your emotions to rule. Instead, pause, pray and look to God's Word.
Rick Boxx's Integrity Moments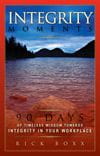 "Integrity Moments" is filled with biblical insights woven into real life stories that challenge you to be a model of integrity to your workplace. Click here to purchase
"How well are you modeling Faith, Integrity, Relationships, and Excellence in your work? Find out by taking Integrity Resource Center's free FIRE Assessment!"
Contact Rick Boxx at www.integritymoments.org, and to learn more about Integrity Resource Center go to integrityresource.org.