Executing the Plan
By: Rick Boxx
January 7, 2013
We have hosted events and conferences for years. At one point I was responsible for both the planning and the execution of these events. At times, this resulted in last minute planning, and attendance and results less than desirable.
Eventually, my wife, Kathy, got involved. Now I develop the plans, cast the vision and then Kathy goes to work in building a team and executing the plan. With a more engaged team being involved the end result has been events that are now more consistent, professional, and better attended.
Proverbs 21:5 teaches, "The plans of the diligent lead to profit as surely as haste leads to poverty."
If you want your plans to succeed, make sure you have both a good plan and an engaged team to execute it properly.
Integrity Resource Center can help train your team or consult with your organization on shaping a biblically based culture. Learn more.
Joel Manby's Love Works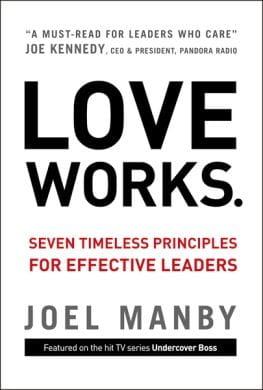 Manby challenges leaders to allow integrity and faith to guide leadership decisions, outlining seven time-proven principles that break down the natural walls within corporate cultures, and cultivating an atmosphere that builds long-term success. Purchase here.
"How well are you modeling Faith, Integrity, Relationships, and Excellence in your work? Find out by taking Integrity Resource Center's free FIRE Assessment!"
Contact Rick Boxx at www.integritymoments.org, and to learn more about Integrity Resource Center go to integrityresource.org.