The Exile of Marriage Problems
"I was married by a judge. I should've asked for a jury." –Groucho Marx
Why is it that the things closest to us can make us feel the furthest away from everything?
Sometimes you can experience a personal exile in your own home. Your marriage is growing colder by the day. You've become co-workers, co-chauffeurs, or co-income producers, rather than husband and wife.
The flame of romance has dwindled to a flicker, or perhaps it has been extinguished altogether. Recently, you found yourself thinking, "You know, I'm not sure what will be left of this thing we call our marriage." In this exile, it is especially difficult, because the person you thought God selected as your best friend and life partner is no longer living life by your side. Emotionally, they are… somewhere else. It seems insurmountable.
But God has handled bigger problems:
Who has measured the waters in the hollow of his hand, or with the breadth of his hand marked off the heavens? Who has held the dust of the earth in a basket, or weighed the mountains on the scales and the hills in the balance? –Isaiah 40:12
The answer is… God (of course). In Revelation 22:13, Jesus says, "I am the Alpha and the Omega, the First and the Last, the Beginning and the End." He is endless. So, if you think the rift in your marriage is greater than your God, remember how infinite He is and turn to Him. Our God can, and will, bridge the gap in your marriage. He can fill the empty spaces, and, in His time, He may bring your marriage back from exile altogether.
Dear God, in this emotional exile, Lord, I turn to You to meet the core of my needs for love and acceptance. Thank You for Your love. Thank You for Your presence in me. Live through me to love my spouse with Your perfect love in tangible ways today. Amen.
Listen to Pete, Jill & Stuart Briscoe on the Telling the Truth broadcast at OnePlace.com
SPECIAL OFFER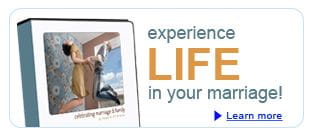 We want to help you celebrate your marriage!
So many couples today would be hard pressed to call their marriage an abundance of anything except boredom, drudgery – or even pain. That's why we want to put a powerful new series from lovebirds Stuart and Jill Briscoe in your hands right away!
Built on the truth of God's Word and wisdom gleaned from over 50 years of marriage, Celebrating Marriage and Family gives you:
> Tools to help grow a godly marriage
> Ways to increase spiritual intimacy
> God's blueprint for experiencing Life in your marriage
This special 4-message series is our gift to thank you for your donation to
Telling the Truth
this month.