Until the end of the exile
"I'm not living, I'm dying the American dream."–Delaney McDonough
"Exile." That feeling of isolation, separation, being far away from home… beingalone. Our personal exiles come our way in many shapes and sizes: idols, infertility, bosses, grief, marriage, sin, people problems, teenagers. Yeah, the list is endless. Actually, anything that is not God can make us feel like we are in exile from God.
God spoke through the prophet Isaiah to the Israelite exiles in Babylon in the sixth century B.C., those words speak across time into our lonely isolated hearts as well.
Even youths grow tired and weary, and young men stumble and fall; but those who hope in the Lord will renew their strength. They will soar on wings like eagles; they will run and not grow weary, they will walk and not be faint.–Isaiah 40:30-31
The truth is that this world is not our home. We will grow weary. We will stumble. But soon enough, we will be with Jesus face-to-face. In the meantime, God is with us, and His spirit is in us.(You can't get any closer than that.)
By telling ourselves the truth about who we are in Christ, and who He is in us, we can know the renewed strength that comes from God Himself. We can fly on wings above the things that make us feel exiled, the things that try to bring us down.
Soon enough, our reunion with Him will be complete. The feelings of exile will be over. He will hold us close and dry every tear.
Until then, keep the faith. Keep looking to Jesus…
Jesus, I trust You, Lord. Your Word says that we have become one, even as You are one with the Father. I rest in that today. I believe You are here with me and in me. Live through me today and every day. Amen.
Listen to Pete, Jill & Stuart Briscoe on the Telling the Truth broadcast at OnePlace.com
SPECIAL OFFER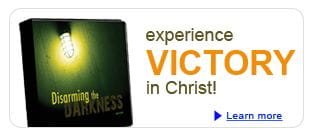 We want to help you experience victory in Christ!
Satan roams back and forth across the earth looking for those he can devour – and that means you!
But take heart: he is defeated! That means, if you're a believer, you don't have to fear and can walk in freedom. Satan is no match for Jesus, and he's no match for you because Jesus is living through you. Pete Briscoe has recorded a 7-message series called Disarming the Darkness to help you know more about Satan's defeat and your triumph through Christ.
It's available on CD and DVD this month as our gift to thank you for your online donation. So please request your copy of Disarming the Darkness below when you give to
Telling the Truth
today.
And thank you for your generous gifts and prayers helping us lead others to experience real Life in Christ!