Love Languages
By: Rick Boxx
April 30, 2013
Sometimes I wish my wife, Kathy, had never read Gary Chapman's "5 Love Languages." In his book, Gary claims there are five primary love languages.
Kathy's preferred love language is "acts of service." She feels most appreciative when I look for ways to serve her. Since "acts of service" is last on my list, it makes for a big challenge. But it's greatly appreciated when I serve.
1 Peter 5:2 teaches, "Be shepherds of God's flockthat is under your care, serving as overseers—not because you must, but because you are willing, as God wants you to be; not greedy for money,but eager to serve."
Being eager to serve means loving your staff or family in the way they prefer. It will be far more appreciated when you do!
Have Rick Boxx speak at your next event, click here for more information.
Rick Boxx's NEW FIRE in the Workplace-6 Week Study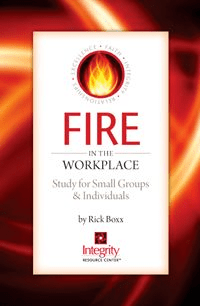 The FIRE in the Workplace study provides six lessons that will help individuals and groups learn and model God's principles at work. The result will be employees and employers who love God, love others, and live out their faith courageously. Purchase here.
"How well are you modeling Faith, Integrity, Relationships, and Excellence in your work? Find out by taking Integrity Resource Center's free FIRE Assessment!"
Contact Rick Boxx at www.integritymoments.org, and to learn more about Integrity Resource Center go to integrityresource.org.