You and Mephibosheth
"To the extent that you are clinging to any vestiges of self-righteousness or are putting any confidence in your own spiritual attainments, to that degree you are not living by the grace of God in your life." —Jerry Bridges, Transforming Grace
"Mephibosheth!" No, I didn't just sneeze. That's a name. It's a guy in the
Bible
. He's one of my favorite biblical characters partly because I love his name so much.
Mephibosheth was the son of Jonathan and the grandson of King Saul, who hated David with a passion. When Saul and Jonathan were killed in the same battle, news got back to the nurse who was taking care of Mephibosheth. He was five years old at the time, and she started to run for fear. She grabbed up the little boy, she tripped, she fell, she landed on top of the boy, and she crippled both of his feet. When David eventually ascended to the throne, he had Mephibosheth brought before him.
I'm guessing that Mephibosheth was pretty sure he was toast. He was a direct descendent of a royal enemy, and David would likely squish him like a bug. But David didn't. David said to him, "I am going to show kindness to you because of your father, Jonathan." Mephibosheth responded, "Why would you show kindness to a dead dog like me?"
This is a beautiful picture of God's grace!
David represents God giving grace and kindness.
Jonathan represents Jesus Christ.
Mephibosheth represents you and me.
Though we are born in sin as descendants of the enemies of God, God shows us kindness because of Jesus. That's a picture of "grace." Imagine you are Mephibosheth; imagine that you are in this picture of grace…because you are.
Oh Lord, without You, we are nothing more than dead dogs. In Jesus, we are welcome to live in the palace, in the presence of the King. Thank You for Your grace, Heavenly Father. Amen.
Listen to Pete, Jill & Stuart Briscoe on the Telling the Truth broadcast at OnePlace.com
SPECIAL OFFER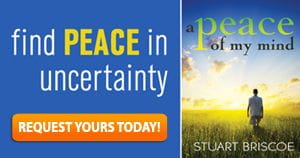 We want you to truly experience Christ's peace!
We all face challenges in relationships, finances, health, or other aspects of our personal world. We work so hard to create peace and stability in our lives – yet it often only takes something small or unexpected to devastate it!
Yet the Bible teaches that peace is not only possible – it's what God desires for your life! That's why Stuart Briscoe wants to send you his book,
A Peace of My Mind
. This special resource is our gift to thank you for generously supporting
Telling the Truth
, so please request yours when you give a gift below.
We trust it will encourage you to experience perfect peace – and thank you for sharing God's peace through
Telling the Truth!