Fear Based Decisions
By: Rick Boxx
May 16, 2013
A Barna Group study revealed that 17% of people surveyed make their ethical decisions out of fear. Early on as a CPA, because of a past mistake, I feared losing my job.
So when a boss told me to do something illegal for a client, my fear surfaced. Although I knew it was wrong, I buckled and did as I was told to avoid being fired.
Deuteronomy 10:12 teaches, "What does the Lordyour God require from you, but to fear the Lordyour God, to walk in all His ways and love Him, and to serve the Lordyour God with all your heart and with all your soul."
My experiences have taught me that the best ethical decisions come from fearing and loving God, more than fearing a boss.
Rick Boxx's How to Prosper in Business without Sacrificing Integrity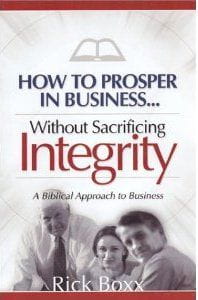 To survive long term, businesses must be profitable. You can accomplish this objective with integrity, or you can do it by whatever means you feel justifies the end, such as fraud, deceit, and ruthless business practices. Purchase here!
"How well are you modeling Faith, Integrity, Relationships, and Excellence in your work? Find out by taking Integrity Resource Center's free FIRE Assessment!"
Contact Rick Boxx at www.integritymoments.org, and to learn more about Integrity Resource Center go to integrityresource.org.