Clinging to the Lord
By: Rick Boxx
May 28, 2013
A large ministry was going through a leadership transition. The CEO knew it was time for him to retire soon, but he wanted to assure that the organization would continue to cling to God in the future.
The organization's board developed a two-year plan that included immersing the new person into the culture of the ministry. They especially wanted him to regularly witness the existing CEOs dependence upon God in how decisions were made.
In Joshua 23, Joshua gave his farewell address. In verse 8 he made his most important point, "But you are to hold fast to the Lordyour God, as you have until now."
If you're preparing your leaders for the future, remember the most important thing is to teach them how to cling to the Lord.
Integrity Resource Center's "Culture" plan is designed to provide management with the necessary training and coaching to build a faith friendly and ethical culture throughout the entire organization. Learn more about our "Culture" consulting plan.
Rick Boxx's How to Prosper in Business without Sacrificing Integrity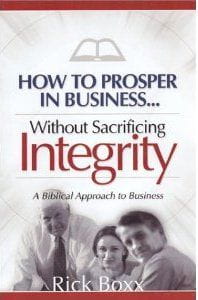 To survive long term, businesses must be profitable. You can accomplish this objective with integrity, or you can do it by whatever means you feel justifies the end, such as fraud, deceit, and ruthless business practices. Purchase here!
"How well are you modeling Faith, Integrity, Relationships, and Excellence in your work? Find out by taking Integrity Resource Center's free FIRE Assessment!"
Contact Rick Boxx at www.integritymoments.org, and to learn more about Integrity Resource Center go to integrityresource.org.