What can wash away my sins? Nothing but the blood of Jesus!
What can make me whole again? Nothing but the blood of Jesus!
Oh, precious is the flow, That makes me white as snow,
No other fount I know, Nothing but the blood of Jesus! —Robert Lowry (1876)
Every once in a while, Hollywood nails it with gripping honesty about eternal truth. It happened a while ago on TV's "ER." A retired police officer is dying from cancer. Nearing his end, he calls a chaplain into his room, confessing his long-held guilt over allowing a man he knew was innocent to be framed, convicted, and executed.
Officer: "How can I even hope for forgiveness?"

Chaplain: "I think sometimes it's easier to feel guilty than forgiven."

Officer: "Which means what?"
Chaplain: "That maybe your guilt over his death has become your reason for living. Maybe you need a new reason to go on."
Officer: "I don't want to go on. Can't you see I'm dying? The only thing that's holding me back is that I'm afraid. I'm afraid of what comes next... You tell me. Is atonement possible? What does God want from me?"
Chaplain: "I think it's up to each one of us to interpret for ourselves what God wants." Officer, staring at her in bewilderment: "So people can do anything. They can rape and they can murder and they can steal all in the name of God and it's okay? ...All I'm hearing is some new age 'God is love have it your way' crap. No, I don't have time for this now."
Chaplain: "Well, you don't understand."
Officer: "No, YOU don't understand. I want a real chaplain who believes in a real God and a real
hell
."
Chaplain in a familiar tone of condescension disguised as understanding: "I hear that you're frustrated but you need to ask yourself... "
Officer: "No I don't need to ask myself anything. I need answers, and all of your questions and all of your uncertainty are only making things worse."
Chaplain: "I know you're upset."
Officer: "God, I need someone who'll look me in the eye and tell me how to find forgiveness because I'm running out of time."
Howard Hendricks once said, "In the midst of a generation screaming for answers, Christians are stuttering." Today, may God use us in any way He sees fit to share the simple, powerful heart of the Gospel.
If we confess our sins, he is faithful and just and will forgive us our sins and purify us from all unrighteousness. —1 John 1:9
For God so loved the world that he gave his one and only Son, that whoever believes in him shall not perish but have eternal life. —John 3:16
Gracious Father, in the name of Jesus, by the power of Your Spirit, use my actions and my words to clearly communicate Your truth to desperate souls today. Amen.
Listen to Pete, Jill & Stuart Briscoe on the Telling the Truth broadcast at OnePlace.com
SPECIAL OFFER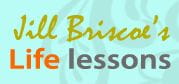 Learn from Jill Briscoe's greatest "Life Lessons"
In Jill Briscoe's booklet and CD message,
Life Lessons
, she shares with you what she's learned in the ups and downs of life and ministry.
Life Lessons
offers you practical advice and helps you learn to better hear God's voice through your own ups and downs!
Both resources are her personal compilation of over 70 years of insights on relationships, marriage, ministry, and
faith
. And they're our "thank you" gifts for your donation to
Telling the Truth
this month.
So please give below. And thank you for helping us share with you and others worldwide where real Life is found!