"The covetous man is ever in want" —Horace
"He who dies with the most toys wins." That's what our culture tells us; life is found in the abundance of possessions. The more stuff you have, the better stuff you have, the happier you'll be. Jesus says the exact opposite:
And he told them this parable: "The ground of a certain rich man yielded an abundant harvest. He thought to himself, 'What shall I do? I have no place to store my crops.' Then he said, 'This is what I'll do. I will tear down my barns and build bigger ones, and there I will store my surplus grain. And I'll say to myself, "You have plenty of grain laid up for many years. Take life easy; eat, drink and be merry."' But God said to him, 'You fool! This very night your life will be demanded from you. Then who will get what you have prepared for yourself?' This is how it will be with anyone who stores up things for himself but is not rich toward God." —Luke 12:16-21
Yeah, money can rob us of security, happiness, and freedom. Money confuses us too. He gave the world a clear warning in His opening intro to the parable:
Then he said to them, "Watch out! Be on your guard against all kinds of greed; life does not consist in an abundance of possessions." —Luke 12:15
Listen, I need to hear this as much as anyone. Every time I wish I had a bigger garage to store more stuff, this parable should come back to me. The problem is, I think most of us want to be confused and conflicted so we don't have to obey His clear instructions. How can we tell if we're confused? Ask yourself this: Are you hoarding your possessions for yourself? Or are you giving generously to things that God cares about? Comparing yourself to others doesn't count here. This is between you and God only. Are you really allowing Him to guide your generosity day to day, according to clear biblical principles and the leading of His Spirit in you... or will you die rich and foolish?
God of All, right here, right now, guide my thoughts. I want to be honest: I need You to make me want to be obedient. I need Your Spirit to show me how. I am Yours. Everything in my possession is Yours. Show me the next step of generosity You want me to take with Your stuff right now, then show me the next step, then the next, then...Amen.
Listen to Pete, Jill & Stuart Briscoe on the Telling the Truth broadcast at OnePlace.com
SPECIAL OFFER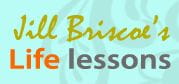 Learn from Jill Briscoe's greatest "Life Lessons"
In Jill Briscoe's booklet and CD message,
Life Lessons
, she shares with you what she's learned in the ups and downs of life and ministry.
Life Lessons
offers you practical advice and helps you learn to better hear God's voice through your own ups and downs!
Both resources are her personal compilation of over 70 years of insights on relationships,
marriage
, ministry, and
faith
. And they're our "thank you" gifts for your donation to
Telling the Truth
this month.
So please give below. And thank you for helping us share with you and others worldwide where real Life is found!