"There is a time for everything,
and a season for every activity under the heavens:
a time to be born and a time to die,
a time to plant and a time to uproot,
a time to kill and a time to heal,
a time to tear down and a time to build,
a time to weep and a time to laugh,
a time to mourn and a time to dance..." — Ecclesiastes 3:1-4
When it comes to dancing, timing is everything. For example, most people believe that you actually have to dance "in time" to the music. (Although I proved this axiom to be categorically false). Other people believe that the best time to dance is in the evening and on the weekends. That might all be true at a honky-tonk, but what about our spiritual dance with Christ? I say the best time to dance is now. Why? For no reason other than His love and mercy, God has chosen to give us that A+ in the class of life. It's a central theme through the whole New Testament, so go for it! Dance now! Through Christ we are in the 100th percentile, and will be eternally.
Consider these words penned by Peter:
"Praise be to the God and Father of our Lord Jesus Christ! In his great mercy he has given us new birth into a living hope through the resurrection of Jesus Christ from the dead, and into an inheritance that can never perish, spoil or fade. This inheritance is kept in heaven for you, who through faith are shielded by God's power until the coming of the salvation that is ready to be revealed in the last time" -
(1 Peter 1:3-5).
Translation? You can't lose your A, my friend. It's written in His book in ink, forever. You can rest in that. You can stop marching and start dancing now because of His neverending grace.
Oh Jesus, nothing in the world works like this. By faith, show me the next steps You want me to take in the eternal dance of Your grace. Amen.
Listen to Pete, Jill & Stuart Briscoe on the Telling the Truth broadcast at OnePlace.com
SPECIAL OFFER
Feeling burned out? Unfulfilled? Drained? If so, you're in good company.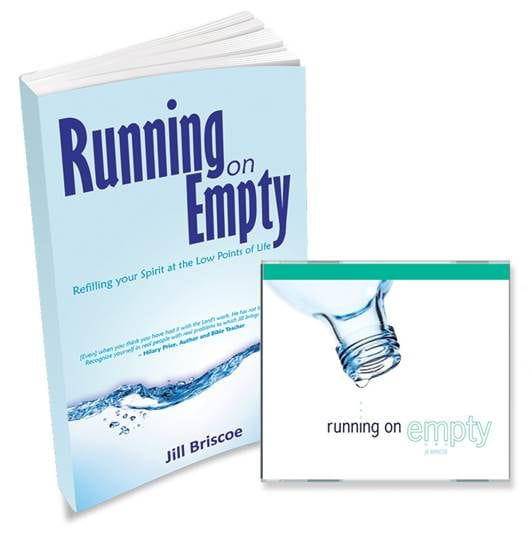 Jill Briscoe shows you, with her insightful and truth-filled book and CD series called Running on Empty, how Jesus offers comfort and hope. Through her usual wit and candor, Jill provides spiritual refreshment and renewal when you're ready to break down or throw in the towel!
The Running on Empty book is our gift to thank you for your ongoing support to help Telling the Truth continue encouraging you and others to experience true Life in Christ. Both the Running on Empty book and 6-message CD series are our gifts to thank you for your special donation this month of $50 or more. Thank you for your generosity and partnership!