"What this country needs is more free speech worth listening to." — Hansell B. Duckett
For some reason, talking about God feels awkward… perhaps even stressful. I'm not sure why that is. Maybe we are afraid of rejection. Maybe there is a component of spiritual warfare that intimidates us. Either way, it doesn't really make sense, since 95% of Americans believe in "God" and most people love to share their thoughts and opinions.
How do we get the conversation rolling? Talking about earthly fathers is an easy transition into talking about God as the perfect Father. It's really natural to compare and contrast fathers and the Father in regular
conversation. That's a simple way to acknowledge who God is and share what we believe and know about Him.
"Let us acknowledge the LORD;
let us press on to acknowledge him.
As surely as the sun rises,
he will appear;
he will come to us like the winter rains,
like the spring rains that water the earth." —Hosea 6:3
Think about a friend that you know well who doesn't believe in "God the Father." What do you know about their earthly father that could be a springboard for talking about some of the attributes of God?
Father, I joyfully acknowledge You in my life today! Would You bring Yourself up in conversation in some way with someone today? Glorify Yourself as the Perfect Father we all desire. Amen.
Listen to Pete, Jill & Stuart Briscoe on the Telling the Truth broadcast at OnePlace.com
SPECIAL OFFER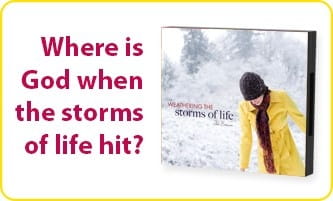 To thank you for helping even more listeners experience Life in Jesus Christ, we want to send you a CD copy of Jill's message, Weathering the Storms of Life. Its encouraging teaching reminds you God is in control and has a plan for your life – no matter what suffering comes your way. So please request your copy of Weathering the Storms of Life as our thanks for your gift below, which will be doubled by the $100,000 Matching Grant. God bless you for your generosity!