"Dear GOD, Maybe Cain and Abel would not kill each other so much if they had their own rooms. It works with my brother." — Larry (9 years old)
There are some really impressive theological terms that describe God's attributes and abilities. Several of them begin with the prefix omni, which means "all" or "total":
Omnipresent: God is everywhere (Psalm 139:7-12).
Omnipotent: God has all power (Jeremiah 32:17, 27).
Omniscience: God is all scientific… No, that's not it—at least not how the word science is used today. The root of the word science is actually "knowledge," so this simply means that God knows everything (1 John 3:20).
In Luke 1:37 the angel Gabriel proclaimed, "For no word from God will ever fail." You've probably heard something like this before—but have you ever really thought about it? Anything that He chooses to do that is in accordance with His character, He can do.
"For my thoughts are not your thoughts, neither are your ways my ways," declares the LORD. "As the heavens are higher than the earth, so are my ways higher than your ways and my thoughts than your thoughts." —Isaiah 55:8-9
God also knows everything. The problem, of course, is that we can't grasp the expanse of His might or wisdom. He's just in a totally different league than we are! He is Father, but He is also farther—farther than our minds can reach.
Food for thought: Why might someone be uncomfortable with the truth that God the Almighty knows everything about him or her? What attributes of God the Father would ease their concerns?
Almighty Father, thank You that Your all-knowing power is mixed with Your complete love. Yes, there are things I try to hide, but You know it all… and still You love. Free me to be open with You about everything. I trust You with my "secrets." Amen.
Listen to Pete, Jill & Stuart Briscoe on the Telling the Truth broadcast at OnePlace.com
SPECIAL OFFER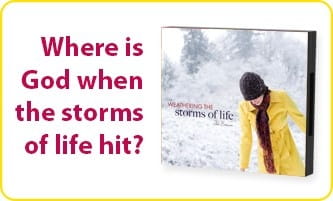 To thank you for helping even more listeners experience Life in Jesus Christ, we want to send you a CD copy of Jill's message, Weathering the Storms of Life. Its encouraging teaching reminds you God is in control and has a plan for your life – no matter what suffering comes your way. So please request your copy of Weathering the Storms of Life as our thanks for your gift below, which will be doubled by the $100,000 Matching Grant. God bless you for your generosity!