Walking the Talk
By Chuck and Sharon Betters
Faith Principle #3
Biblical faith produces radical obedience.
By faith Enoch was taken from this life so that he did not experience death: he could not be found because God had taken him away. For before he was taken he was commended as one who pleased God. And without faith it is impossible to please God, because anyone who comes to him must believe that he exists and that he rewards those who earnestly seek him. Hebrews 11:5-6
"You say you are a Christian, but you can't even help your own family! Some Christian you are!" My sister's angry words felt like someone had just thrown cold water in my face. After I got off the phone, I thought carefully about the situation. My father was dying, but I saw no way I could help care for him. My sister wanted me to leave my job in Manila, where the unemployment rate was very high and jobs were scarce, and come home to my family's remote village to help care for my father. But I was afraid to give up my job in the city, afraid to make such a drastic change.
I was not only newly married but also pregnant. My husband and I were very involved in our church and with other Christian activities in and around Manila. While I had often prayed that my parents and older sister would come to know the same grace God had shown to me, they had remained hostile and resistant, and we soon realized we could not even discuss our newfound faith with any of them. Perhaps in this circumstance God as giving me an opportunity to share His grace through my actions rather than my words. Thus, after much prayer, we decided to go home to help with my father's care.
It proved to be a trying experience. My father was involved with witchcraft and was depending on magical charms he was wearing, healing charms given to him by local witch doctors. He was hostile to me, and every time I tried to share the gospel with him, he would angrily exclaim, "Don't you know that I am Satan's right hand in hell?" By God's grace, I eventually persuaded my mother that these tokens were evil, and she finally convinced my father to get ride of them.
Early one morning my father repeatedly cried out, "Lani why is my soul so painful?" I answered him gently, "Papa, the pain you feel in your soul is like the pain in your body. The pain in your body is caused by your sickness. The pain in your soul is caused by your sins." Then he asked me, "How can I get rid of my sins so that the pain in my soul will go away?" "Only Jesus can take away your sins, Papa," I said. "Confess them to Jesus, repent and ask Him to forgive you. Jesus will forgive you and take away your sins. You must receive Him as your Savior and Lord." My father asked me to help him do this, and we prayed together. When I left him, he had a smile on his lips.
The next morning my father died peacefully. Soon after my father's death, my mother and older sister also committed their lives to Christ. My husband and I are so glad we gave up our jobs and left our church in Manila to be with my family in their time of great need. The initial hostility of my family to our faith forced us to stop talking about beliefs and instead to "walk the talk." We are now both attending seminary in the United States, and we are preparing to go back to the Philippines as missionaries to share with others there the good news of Jesus Christ. (Reprinted with permission from Treasures of Faith, Living Boldly in View of God's Promises by Chuck and Sharon Betters, pages 47 – 49)
In His grip,
Chuck and Sharon Betters
SPECIAL OFFER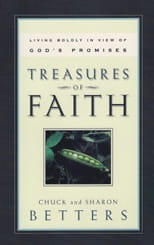 Treasures of Faith, Living Boldly in View of God's Promises
A verse by verse study of Hebrews 11. Each chapter includes a real life story, exposition of the scriptures, and Digging Deeper questions. For personal or small group study, a Leader's Guide is Available as well as specially priced bundles for small group studies.

http://markinc.org/ministries/treasures-of-faith/