"One is the loneliest number that you'll ever do. Two can be as bad as one. It's the loneliest number since the number one ..." — Three Dog Night
Christian colleges can be like meat markets. Church single groups can be the same. Sometimes I wonder if the singles in those classes are into God or into the bod of the person next to them. Are they following the Holy Spirit or their hormones? Sure, there is a natural attraction to get married, but the desire can also be part of a deep, deep emotional deception that lures people out of trust and contentment in Christ.
Lie number 2: You can't be happy unless you're married.
Think you have to be married to be whole and happy? Get this: Paul spends the whole chapter of 1 Corinthians 7 convincing people not to get married.
Now for the matters you wrote about: "It is good for a man not to have sexual relations with a woman." … I wish that all men were as I am [Paul was single]. But each of you has your own gift from God; one has this gift, another has that. Now to the unmarried and the widows I say: It is good for them to stay unmarried… I would like you to be free from concern. An unmarried man is concerned about the Lord's affairs—how he can please the Lord. But a married man is concerned about the affairs of this world—how he can please his wife—and his interests are divided. An unmarried woman or virgin is concerned about the Lord's affairs: Her aim is to be devoted to the Lord in both body and spirit. But a married woman is concerned about the affairs of this world—how she can please her husband. I am saying this for your own good, not to restrict you, but that you may live in a right way in undivided devotion to the Lord. —1 Corinthians 7:1-1, 7-8, 32-35
Do you believe you can't be happy unless you're married? The truth is this: Singleness is either a gift to cherish or a season to enjoy.
The loneliest people I know are not single adults. The loneliest people are people I know trapped in a bad marriage. Marriage is not the happiness pill a lot of people think it is. If you want to be happy in marriage, remember that true joy and fulfillment are found only in Christ. Period.
God, Your Word says, "in Your presence there is fullness of joy." I lay claim to that truth right here, right now, no matter what my circumstances might be. Turn my heart towards You, as my source of true fulfillment—filling me until I'm full—in "need" of nothing else. Amen.
Listen to Pete, Jill & Stuart Briscoe on the Telling the Truth broadcast at OnePlace.com
SPECIAL OFFER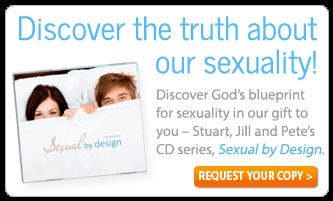 Stuart, Jill, and Pete's Sexual by Design CD Series
Discover the truth about our sexuality. Stuart, Jill, and Pete's Sexual by Design series tackles head-on some of the most pressing sexual issues our culture faces today and helps you talk more openly about God's design for us as sexual beings. So be sure to request yours today!