It is human nature to want stuff and want it now; it is also a sign of immaturity. — Dave Ramsey
Have you ever been through the grocery store checkout line when a toddler declares she wants that candy bar? The parent keeps saying no, but the toddler won't concede.
"I want the candy bar!"
"No, not this time, honey."
"But I want it!"
"Sorry, sweetie, it's a no."
"I want it! I want it! I want it!"
The toddler hits the floor in a fit, and everyone looks at the parent (as if his or her children never behaved in such a way!). But the kid wants it NOW.
Now imagine a married couple standing in an electronics store. They're looking at the flat screen TVs. The husband looks at his wife and says, "Wow, I need it." She shrugs her shoulders. Problem is, there's no one to say no when VISA, MasterCard, and Discover all say yes.
There is a certain temptation that baits us to go into debt. It sounds like this: You need this even though you can't afford it. You need it and you don't have to wait; it can be yours with only a little bit of debt.
I know. I know. It's fleshly human nature to want stuff now. It's also immature to give in to the demands of your inner toddler when he or she throws a tantrum.
The fact is, you can have it now, so you swipe the card … and pay for it later with suffocating interest rates and a choking principle. Say yes, and you enter slavery voluntarily.
But there is a way to make debt weak in the knees. When you hear the lie that says, "You are missing out," and your inner toddler starts to conspire some sort of plan to get it now, just whip out debt's kryptonite: contentment.
But godliness with contentment is great gain. For we brought nothing into this world, and we can take nothing out of it. (1 Timothy 6:6-7)
Listen, the child can get by without the candy. You don't need the flat screen TV or the extra square footage. In fact, in the long run, you are better off without it IF you choose to let the godliness of Christ within you and contentment give you the greatest gains of all, moment by moment.
Jesus, My Provider, I thank You for meeting my basic needs. I possessed nothing at birth, and I will take nothing with me when I die. In between, by Your grace, You've provided all that I need. Thank You for always being with me. Guide my heart today as I reflect upon the wealth of contentment. Lead me to surrender any desires that distract me from this great gain. Amen.
Listen to Pete, Jill & Stuart Briscoe on the Telling the Truth broadcast at OnePlace.com
SPECIAL OFFER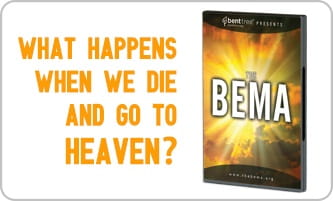 Get a Glimpse of Your Heavenly Future!
The
Bible
says that those who've trusted Christ will also stand before Him for a personal conversation about their lives at an event called the Bema. We want to give you a glimpse of what that day might look like and help you prepare for it by sending you a DVD copy of Pete Briscoe's dramatic presentation,
The Bema. Request your copy!