The greater part of our happiness or misery depends upon our dispositions, and not upon our circumstances. — Martha Washington
A few years ago, we were sitting at the dining room table, about to share a meal as a family. A huge brick of cheese sat in the middle of the table. My dad said, "You know, that would have been about three months' ration of cheese during the war."
Wow. Lesson learned.
Both of my parents live with a deep level of contentment in their life. I believe it's because they were raised with very little. Both grew up in England during WWII under strict rations and the constant threat of losing it all.
But as I grew up, I never wanted for a thing. I never experienced war firsthand. I never had to wonder where my next meal was coming from.
I am part of the generation that wanted to start where our parents ended up. Contentment has been difficult. The settled conviction that we have what we need has not been easy for our generation.
But I have a prayer for you today: "Dear Lord, don't make me rich. Don't make me poor."
Sounds a little risky, doesn't it? Does it come across as a little countercultural? It should. It's straight out of Scripture.
"Two things I ask of you, Lord; do not refuse me before I die: Keep falsehood and lies far from me; give me neither poverty nor riches, but give me only my daily bread." - (Proverbs 30:7-8)
There is risk that comes with wealth. If we have too much, it could lead to selfsufficiency and self-reliance. We might forget the importance of God. Conversely, if we have too little, we might be tempted to steal and dishonor the Lord. So this is the prayer: Keep me dependent upon You. Give me my shelter and my food, and I'll be good. This prayer is still true of us today.
In his first letter to Timothy, Paul continues, "But if we have food and clothing, we will be content with that. Those who want to get rich fall into temptation and a trap…" (1 Timothy 6:8-9).
Neither rich nor poor, Lord. This is our prayer.
Jesus, it's no secret that society elevates the pursuit of material wealth. This pursuit is even passed down from one generation to the next. Guide my steps away from the desire for more and into the satisfaction that only contentment can bring. If You bless me with abundance, show me where to share it; and then give generously through me. Amen.
Listen to Pete, Jill & Stuart Briscoe on the Telling the Truth broadcast at OnePlace.com
SPECIAL OFFER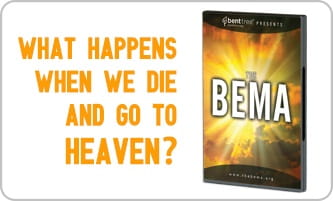 Get a Glimpse of Your Heavenly Future!
The
Bible
says that those who've trusted Christ will also stand before Him for a personal conversation about their lives at an event called the Bema. We want to give you a glimpse of what that day might look like and help you prepare for it by sending you a DVD copy of Pete Briscoe's dramatic presentation,
The Bema. Request your copy!