Indwelling Love = Outpouring Love
"…And now abide faith, hope, love, these three; but the greatest of these is love." - (I Corinthians 13:13)
How does love fit into this trio of lasting qualities Paul writes of? The Apostle John answered that question for us when he wrote: "God is love and he who dwells in love dwells in God and God dwells in him." (I John 4;16) When we dwell in the love Paul prescribed (in I Corinthians 13), we dwell in God, and He dwells in us.
By application, this means when we go where the hurting people are, as His love is passing through us and addressing their pain, we are touching God and He is touching us. Since the agape love passing through us is God, we are dwelling in God and He is dwelling in us while His love is passing through us.
Jesus gave us love perspective when He exhorted the apostles to look up before they look on the fields that are over ripe for harvest. (John 4:35) The Lord was focusing on two perspectives we must master as His authentic disciples. Before we look around and relate to the people who intersect our lives every day, we are to look up and then look at them. We should see them through the same "love lenses" God uses when He sees them. If we do, we will never see anyone we cannot love.
Jesus also taught that all the commandments of the Scriptures are fulfilled when we love God and love our neighbor as ourselves. (Matthew 22:35-40) His parable of the Good Samaritan answered the lawyer's question, "Who is my neighbor?' by stating any hurting person who intersects my life and needs my help is my neighbor. (Luke 10:29-37)
I was seeking a relationship with God when I first discovered these profound teachings. As a social worker in a large city, I volunteered to be on night call every night for an entire year. That year I discovered it is possible to touch God and be touched by God while being a conduit of His love.
I learned that seeking God is not an either/or, but a both/and proposition. We are liars if we say we love God, Whom we cannot see, and do not love the people we can see. Each time I was called out at night to be with hurting people, I asked God to pass His love through me and address their pain. My experience can be described this way: "I sought my soul, but my soul I could not see. I sought my God but my God eluded me. I met my neighbor and I found all three."
Dick Woodward, from A Prescription for Love

---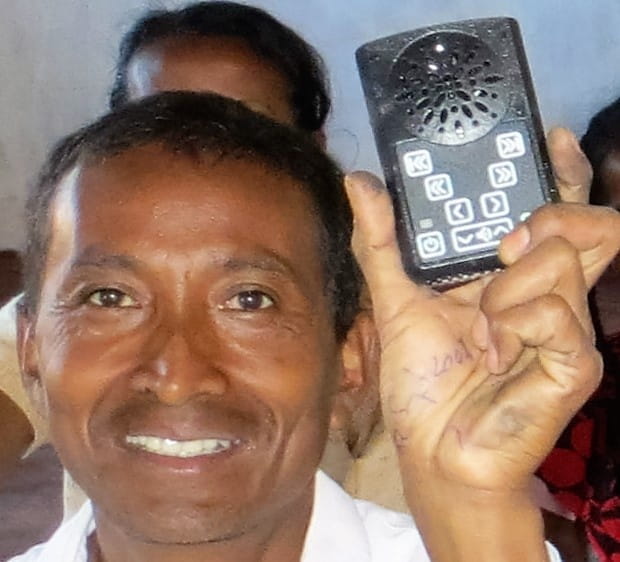 Give MBC to developing nations
Do you love The Mini Bible College by Dick Woodward? We do, too! That's why ICM has translated MBC into more than 40 languages and distributes it for free to church leaders, pastors and small groups all over the world.