"As I promised you long ago," the woman said [to the previously selfish king], "when the day came that you, yourself, were poor, only then would I give you a quilt." The king's great sunny laugh made green apples fall and flowers turn his way.
"But I am not poor," he said. "I may look poor, but in truth my heart is full to bursting, filled with the memories of all the happiness I've given and received. I'm the richest man I know." – The Quiltmaker's Gift
According to Media Dynamics' publication, Media Matters, an adult in America is exposed to about 600-625 ads each day. Basically, all those ads are saying the same thing: "You will be blessed if you get THIS!" So if some of you are still skeptical that there is more blessing in giving than receiving, I don't blame you. Retailers are spending billions of dollars a year to convince you that more of their stuff is going to make your day. That's why I'm spending a couple weeks here to convince you that God's way of giving is better. But honestly, the only way you're going to get past that is to try it.
So here is my challenge to you again: Get alone with the Lord, worship and praise Him in your own way for a while and then say, "Lord, I'm Yours. What do You want me to give away and to whom?" Simple prayer. "What do you want me to give? And, to whom? Jesus, what do you want to give through me, and whom do you want me to give to?"
I believe God's Spirit in you will answer. But don't be surprised if it sounds crazy and doesn't make entire sense to you.
"The wind blows wherever it pleases. You hear its sound, but you cannot tell where it comes from or where it is going. So it is with everyone born of the Spirit." – John 3:8
God sees the big picture. He knows where the needs are and He knows where the resources are and He might just blow you in a weird direction so He can connect the two.
There's a host of directions He could send you.
He might lay on your heart something small: You know that coffee table in the front room? Give it to your son at college.
Maybe it's something medium: Stop the car. See that woman in the park? Give her $300.
It might be something big: Downsize your house and invest that in this ministry that I'm laying on your heart.
Whatever it is, it's going to be different for all of us. No formulas. No set percentages. And no comparing yourself with others. Giving is an adventure in intimacy with God that begins with the faith to ask, listen, and then say, "Yes, Holy Spirit, let's do this."
Spirit, expand the possibilities of how You might want to give through me. I'm asking. I'm listening. By Your power, I'm obeying. Amen.
Listen to Pete, Jill & Stuart Briscoe on the Telling the Truth broadcast at OnePlace.com
SPECIAL OFFER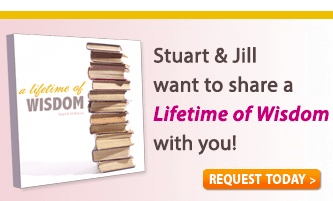 Stuart and Jill Briscoe want to share A Lifetime of Wisdom with you!
This 3-message CD series shares thought-provoking teaching from Stuart and Jill that shows how your life's experiences can lead to greater spiritual wisdom.