"Maybe there is no actual place called hell. Maybe hell is just having to listen to our grandparents breathe through their noses when they're eating sandwiches" –Jim Carrey
"Jim Carrey is a good comedian, but an awful theologian." – Pete Briscoe
Is it possible to be "so heavenly minded that you are of no earthly good"? I don't think so, actually. Having the truth about heaven in our minds puts everything else in perspective. It can guide our earthly lives into a tremendous amount of good. Throughout the Bible we find various snapshots of heaven to give us a little glimpse of what kind of place it will be:
Eternal life in heaven is indescribable. When we step out of the time/space dimension of this screwed up and fallen world, when we begin to navigate through the timelessness of eternity with perfect and glorified bodies... nothing on earth will compare to that.
It's everything that is good and beautiful and pure and blessed going on forever and ever and ever. The Bible lso speaks of a new heaven and new earth that (2 Peter 3:13) will be ours to enjoy and explore. Revelation 21-22 give a vivid word picture of this place. It's an inspiring read, but like much of Revelation it's hard to tell what is literal and what is symbolic. When we get down to it, there is no direct description – no earthly comparison to heaven. It simply cannot be described in human terms.
The Bible actually is most explicit about what heaven will not be like: No more pain (Revelation 21:4), no more tears (Revelation 7:17) no more death (Luke 20:36), no more night (Revelation 22:5), and no more Satan. (Can I get an Amen?) For those who are in Christ, this certain future up there can be great encouragement and inspiration for living down here.
Since, then, you have been raised with Christ, set your hearts on things above, where Christ is, seated at the right hand of God. Set your minds on things above, not on earthly things. For you died, and your life is now hidden with Christ in God. When Christ, who is your life, appears, then you also will appear with him in glory. – Colossians 3:13
I don't know about you, but this eternal perspective on our future changes the way that I look at today.
Jesus, focus my thoughts on things above, and not on earthly things. May the hope and expectation of heaven, and the fact that my life is hidden with you in God right now, direct my mind, my will, and my emotions today. Amen.
Listen to Pete, Jill & Stuart Briscoe on the Telling the Truth broadcast at OnePlace.com
SPECIAL OFFER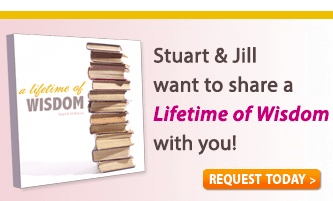 Stuart and Jill Briscoe want to share A Lifetime of Wisdom with you!
This 3-message CD series shares thought-provoking teaching from Stuart and Jill that shows how your life's experiences can lead to greater spiritual wisdom.