Trusting God's Direction
By: Rick Boxx
September 23, 2015
When Larry Collett was CEO of Cass Information Systems, someone filed an unwarranted lawsuit against the company. Along the way, many people encouraged Larry to settle the lawsuit, even though Cass was innocent.
God, however, instructed Larry to defend this suit, rather than settling, because Cass was innocent. It cost Cass millions in legal fees, but Cass was finally vindicated! In the meantime, God blessed the business so much that the legal fees became insignificant in size. Larry believes it was God's favor for obedience.
Proverbs 3:5-6 teaches, "Trust in the LORD with all your heart And do not lean on your own understanding. In all your ways acknowledge Him, And He will make your paths straight."
If God is leading you to take a stand, trust in Him, even when others disagree.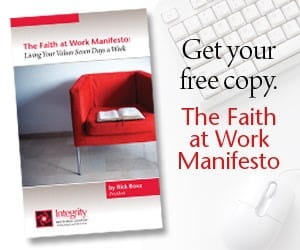 Learn more about Rick Boxx and Integrity Resource Center