The Source of Wisdom
By: Rick Boxx
September 30, 2015
In business, the pursuit of wisdom is critical for long-term success. There are many books, workshops and online resources that may be helpful in this quest.
But, my friend, Larry Collett, recently shared with a group of businessmen and women, including me, a simple but profound insight. Larry said, "Wisdom is a person…Jesus Christ."
1 Corinthians 1:30 says, "But by God's doing you are in Christ Jesus, who became to us wisdom from God, and righteousness and sanctification, and redemption."
God, through Jesus Christ, is the source of all wisdom, not only towards eternal salvation, but also to obtain wisdom. If you need true wisdom for the tough workplace decisions you must make daily, don't forget to study God's Word, pray and turn to the source of wisdom, Jesus Christ.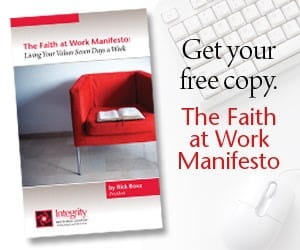 Learn more about Rick Boxx and Integrity Resource Center