As no man is excluded from calling upon God, the gate of salvation is set open to all men;; neither is there any other thing which keepeth us back from entering in, save only our own unbelief. – John Calvin
"When Grandma read to me 'Humpty Dumpty sat on a wall, Humpty Dumpty had a great fall...' I never knew that Humpty's fall was something that someday comes to us all." – Lee Bennett Hopkins, Been To Yesterdays: Poems of a Life
Humpty Dumpty. He fell off a wall and couldn't be put back together again. We, like Humpty Dumpty, are broken and in desperate need of a savior who can put us back together. Most of us get that. But after coming to Christ, do you ever worry that you might teeter or fall off the wall and crack, or even break again when you hit the bottom?
Take the helmet of salvation and the sword of the Spirit, which is the word of God. – Ephesians 6:17
When discussing the armor of God, the apostle Paul was concerned about our heads because he knew that Satan loves to mess with our minds. What we think today will turn into action tomorrow, so if we believe Satan's lies, the way we live eventually gets messed up too. So Paul tells us to put on a metaphorical "helmet of salvation" – a hard shell of truth about our salvation to protect our brains, and therefore our souls, from some lies that could really mess us up.
Unlike Humpty Dumpty, we do have a Savior – we are saved in Christ Jesus. Not only did He save us, but He is saving us, and He will save us. His Word tells us that truth. We're going to dig into that a little bit deeper and discover a new freedom and passion in Christ – that comes with the protection of God's salvation.
God, thank You for salvation, the greatest gift You could ever give us! I give my fears to You, because I don't want to live the rest of my life worrying about losing the protection You've given us. Help me to walk boldly in this new life You have given me, and show me how to live passionately and freely in You. Amen.
Listen to Pete, Jill & Stuart Briscoe on the Telling the Truth broadcast at OnePlace.com
SPECIAL OFFER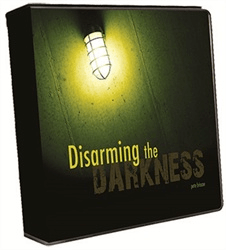 Pete Briscoe's Disarming the Darkness DVD or CD series
Satan loves to use Christians as his punching bag. But if you're a believer, you don't have to fear his attacks and can walk in freedom! Learn more about Satan's defeat and your triumph in Christ in this encouraging 7-message CD or DVD series from Pete Briscoe.