December 27
Hidden Paths and Failing Hearts
"My iniquities have overtaken me, so that I am not able to see; They are more numerous than the hairs of my head; And my heart has failed me."
Under siege, blinded, overwhelmed, and weakened by our sins. These are the emotions of King David, the most beloved king in the history of the people of Israel; mighty warrior and conqueror of the fiercest of enemies, brave and devoted shepherd, poet and song writer, anointed of God, the favored one of heaven. He commanded the most feared army of the world, stood bravely face to face with a giant who had slain countless men before him, and though outnumbered on many occasions, he held his position before the most powerful armies of his day because he knew God was with him. A man who could not be captured even though many had put forth a most valiant effort to bring down this mighty king. What could bring the most feared king to ruin? Who could make such a warrior another's slave? What could envelope the fearless one with such a wave of force that it causes his very heart to fail? Untouchable by man but who now writes the words: conquered, overtaken, blinded, outnumbered, and stripped of all strength.
To whom does the victor's crown belong for such a prized capture? To whom shall the streets align themselves for with admiration and throngs of praise? The mighty conqueror is iniquity himself; the most destructive force known to mankind. Sin makes the strong weak, it darkens the path that was once lit, and makes the free man its slave. God reveals the very intent of sin in His words to Cain before he murders his brother Abel, "…sin is crouching at the door; and its desire is for you, but you must master it." (Genesis 4:7) Sin crouches at the door, it's subtle, it's hidden, and it knocks and knocks, waiting for the moment that the door is opened that it may go in. Why? Because it desires to overtake us, to steal and destroy all that is good and lovely.
It does not matter who we are, how strong we are, the position we hold, the wisdom that we possess, the dedication or service we've given, or even the amount of battles we've won in the past, sin will always seek to enter our lives, weaken us, and blind us in order to lure us away that it may take us into the land of captivity. The most grievous sight, beloved, is the land of honor that is left in ruin as the captive is led away. Sin on any level is devastating to any life, whether they are great or small, rich or poor.
The battle over personal sin is won long before the temptation ever knocks upon our door. It's fearing sin because of who God is. What is your attitude toward sin? Is it, "Well, to each his own?" Is it, "I'll just do it this one time because I know I can always ask forgiveness later?" Is it, "I'm not hurting anyone?" Or, "I'm not like other people who murder, and etc. etc." Sin grieves the heart of God on any level. If you are in bondage this hour because you've been enticed by sin, then know this; "If we confess our sins, He is faithful and righteous to forgive us our sins and to cleanse us from all unrighteousness." (I John 1:9). No matter how far you've strayed, confessions with repentance bring deliverance, and deliverance restores the glory that the land has lost.
Turn away from all that is unholy.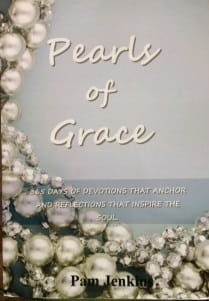 Pearls of Grace Devotional Book
Pearls of Grace is a book of devotions for the entire year, including a read through the Bible in a year calendar, broken down for every day. Beautifully written with encouraging words of hope and empowering words of joy and strength for every woman. Pam draws from the truth and richness of God's Word and gives real life examples in her down to earth style. A must have in your library, click here for more information.
For more from Pam Jenkins and Jabbok Ministries, please visit www.jabbokministries.com!
Listen to Pam Jenkins's daily broadcast on OnePlace.com.