January 31
The Touch of the Master's Hand
"For You formed my inward parts; You wove me in my mother's womb. I will give thanks to You, for I am fearfully and wonderfully made…"
There was a small town that had only one church, which was located in the very center of town. Though not a very large congregation they all had a love for the Lord and for their beloved pipe organ. Every morning and evening the streets of the city were filled with the majestic horns and strings of glorious music as the beloved pipe organ was played. It rang forth an anthem of praise faithfully until one winter's eve a strange quiet fell upon the streets. People began to come out of their houses in strange amazement as the sound of song was missing and the sound of nothingness seemed to envelope them.
They made their way to the church supposing something to be wrong with the organ player only to find him bent over the pipe organ with tear filled eyes. In his brokenheartedness, he began to explain how the beloved organ would not work though he had tried and tried working endlessly throughout the day to restore it to use. Days turned into months with no sign of hope for the church organ being repaired. There was no more music to be heard; the city was enveloped in a sadness that gripped the heart of every man, woman and child.
One day an elderly gentleman visited the town and checked into the local motel. He visited the town's church that Sunday morning only to find that services had been canceled because the pipe organ was broken. Seeing the effect this loss had upon the town he offered his assistance to work on the organ. He shut himself up in the church for several days working diligently from sun up to sun down. On about the fourth day, just as the sun was rising in the eastern sky, the church erupted with the most glorious music ever heard as the pipe organ bellowed out a song as never before. The pastor made his way to the man asking how he could have repaired the organ. They had tried and tried but were told it would never bring forth music again. The old man looked deep into the pastor's eyes and said; "It's very simple, I'm its maker. Many years ago I made this organ; I know it inside and out".
There will be times in our lives when we cannot repair what is broken. Only the hands of the Maker can restore one again to usefulness. He is intimately acquainted with all of our ways and He possesses the skill and the wisdom to make us whole, to fix what is broken within us. When others, including ourselves, have given up as loss, abandoned all hope, the Maker, God Himself, steps in with His powerful loving touch and does what no one else can do, and there rises from the depth of brokenness a song more glorious than any man or woman could ever write.
Do you feel that you are broken beyond repair, beyond what you or anyone else can fix or even hope to see made whole again? Has your heart lost its song beloved? Let the Master, the One Who designed you, fashioning every detail, delve into your inward recesses and make the repairs necessary. His touch is all you need. Your future days will ascend above any former glory you may have known. No matter the depth of brokenness, no matter the failure, your Maker is greater than all. Until a life brings forth a song that has been birthed by the hands of its Maker, it will never sing His praises.
Make my life an instrument that will bring forth music of praise to You.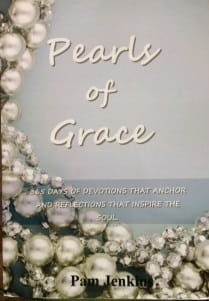 Pearls of Grace Devotional Book
Pearls of Grace is a book of devotions for the entire year, including a read through the Bible in a year calendar, broken down for every day. Beautifully written with encouraging words of hope and empowering words of joy and strength for every woman. Pam draws from the truth and richness of God's Word and gives real life examples in her down to earth style. A must have in your library, click here for more information.
For more from Pam Jenkins and Jabbok Ministries, please visit www.jabbokministries.com!
Listen to Pam Jenkins's daily broadcast on OnePlace.com.