Week 7
Love is a Verb
This is how we know what love is: Jesus Christ laid down his life for us. 1 John 3:16
Our culture gets love all wrong, dumbing it down to cheesy greeting cards and cliché romantic comedies. Cupid is held out as the symbol for love. Personally, I find an arrow being shot through your heart by a blindfolded flying baby pretty horrifying. Todd and I have been together since he was a pup of sixteen and I was seventeen. I can tell you from experience that if your love can be summed up in a Hallmark card, it is not going to weather life's inevitable storms. Love may be blind, but marriage is a real eye-opener. It's not based on emotions, but is deeply rooted in action and choice. Every day, you either choose to live sacrificially or choose to live selfishly. As C. S. Lewis reminded us, love is a verb and an action. It's not a feeling. There are days when I feel like loving Todd about as much as a bloody paper cut, and he, me . . . about as much as a whacked shin on a darkened staircase. Thankfully our marriage is not built on emotion. It's rooted in the sacrificial love of our Savior. Jesus showed us that truly loving someone requires great personal sacrifice. After all, His love for His bride, the Church, led Him to a painful death on a cross.
Sweet Freedom in Action
Today, choose to surprise someone you love by sacrificing for them and doing something for them that you might not want to do but that they will love. Show them you love them.
---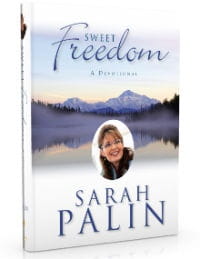 In Sweet Freedom, Sarah Palin invites you to draw strength and inspiration from 260 meditations based on guiding Biblical verses. You are not alone in your doubts and anxieties—we all bear the burdens of everyday stresses, and for most of us, our concerns spread beyond our selves to our families, communities, and country. But Palin shows that with abiding faith, and by opening ourselves to the truths that have saved mankind for generations, we can thrive—and experience true freedom.