Tough Choices
By:Rick Boxx
February 9, 2016
At a conference I attended last year, I heard Doug McMillon, CEO of Wal-Mart, discuss some thoughts on navigating the conflicts in his family and work calendars. For him, he decided early on to attend his children's activities as frequently as possible.
Imagine having to choose between a business meeting impacting billions of dollars, and his son's sporting event. A practical step he uses to help with those choices is weaving his family's calendar into his work calendar. This helps Doug proactively order his priorities.
1 Timothy 5:8 teaches, "But if anyone does not provide for his own, and especially for those of his household, he has denied the faith and is worse than an unbeliever."
If you desire to honor your family, consider scheduling with both your work and personal calendars in hand.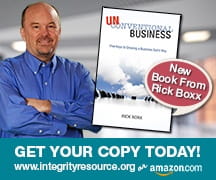 Learn more about Rick Boxx and Integrity Resource Center