Week 10
Powerful Sacrifice
But the king replied to Araunah, "No, I insist on paying you for it. I will not sacrifice to the Lord my God burnt offerings that cost me nothing." 2 Samuel 24:24
The enemies of Christianity think they can mock Christians by calling us hypocrites. In essence, they accuse us of not having the courage of our convictions, of not being willing to make personal sacrifices for our beliefs—in short, they accuse us of not walking the walk. National Review writer and renowned television commentator David French is a great example of "walking the walk." A Harvard Law grad, he lamented the fact that the U.S. Army was experiencing a recruitment shortfall. Then he realized: he hadn't done enough to support the war effort. Even though he was a busy professional and very involved father, had to get an age waiver, and was worried that he couldn't even pass the physical, he sacrificed: he got in shape, joined the army, and was deployed to Iraq during the surge.
Sweet Freedom in Action
We shouldn't argue for a position for which we aren't personally willing to sacrifice. I want my actions to be in harmony with my words. Today, ask God to show you what you must let go of to become a more effective witness for Christ. He'll replace it with something better as you walk the walk.
---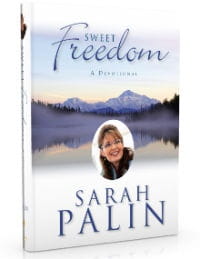 In Sweet Freedom, Sarah Palin invites you to draw strength and inspiration from 260 meditations based on guiding Biblical verses. You are not alone in your doubts and anxieties—we all bear the burdens of everyday stresses, and for most of us, our concerns spread beyond our selves to our families, communities, and country. But Palin shows that with abiding faith, and by opening ourselves to the truths that have saved mankind for generations, we can thrive—and experience true freedom.