March 20
A Design Bigger than Life
"…I will never break my covenant with you."
To know that God is the Faithful One watching over not only your very life but over His work in you and through you is spiritual strength to your life. He will bring it to an end. God's work in creating you, precious daughter, was not the end of His creative touch upon your life; it was only the beginning. The day you were born was the day God set in motion His holy process, the day the Heavens shouted, "Ready set go"! God rolled up His divine sleeves of power, picked up His precious new born clay, drew it up close in mercy and abounding grace and went to work. What He began at your conception will be a lifelong work for Him; what an awesome thought for our soul to drink in. At this moment, the Living, Holy God has His hand upon you, fashioning, shaping and making you into the woman He has planned for you to be. This holy perspective of God's faithfulness to complete what He begins is the first step to deep abiding confidence and trust in God and the anchor of joy.
Maybe you've had an earthly Father abandon you or maybe a mother, sister or brother; even a child or spouse. Hear these words…God will never abandon you…He will never remove His hand from the work He has begun. People will fail you, but God never will. People may give up on you but there is a God Whose hand will never cease, never falter, and never lift its presence from the labor of love His heart has set out to complete in you. Truth will speak security into the lives of God's people when they choose to listen. God wants us to understand that our security is not to be in ourselves or even in each other but in God Himself. He who began a good work in you will never abandon the work. He remains faithful to the end result because He is a covenant keeping God.
God can be trusted with our life and even with those things that are most dear to our hearts. We can know that He has stretched out the time line of our life; our days and nights, and He watches over that line holding it and securing our future like the faithful God He is. He will never abandon the post of your life. He is your watchman and He has taken His stand atop the wall of your life to watch over you and to bring about the work He has planned for you. There is no need for answers or clear explanations of what the plan is when you come to believe that God is at work in you until eternity begins; until you are a completed vessel of holiness before His eyes. You can trust Him precious daughter of God. He is with you always even unto the end of the age and His hands will continue their pressing in on you and molding of you until the day He calls you home. Even when we fail, when we absolutely blow it with poor decisions or when we fall into sin, God never steps away. Even when we are abused by life, people or experience consequences because of the choices of another, God is there, hands steady until the sun sets upon your life.
God's hands are safe and they are faithful til the end.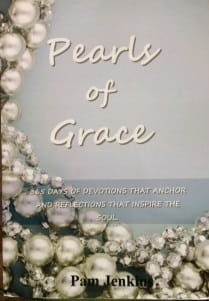 Pearls of Grace Devotional Book
Pearls of Grace is a book of devotions for the entire year, including a read through the Bible in a year calendar, broken down for every day. Beautifully written with encouraging words of hope and empowering words of joy and strength for every woman. Pam draws from the truth and richness of God's Word and gives real life examples in her down to earth style. A must have in your library, click here for more information.
For more from Pam Jenkins and Jabbok Ministries, please visit www.jabbokministries.com!
Listen to Pam Jenkins's daily broadcast on OnePlace.com.