March 23
Spoken For
"I am no longer in the world; and yet they themselves are in the world, and I come to You. Holy Father, keep them in Your name, the name which You have given Me, that they may be one even as We are."
The longer we walk with the Lord, the narrower the path becomes, slowly releasing those objects, until we find there is no longer any room for them upon the path. We walk on with Him until the path become so fixed, so tapered that there is room only for the feet upon it. The one who is sold out to following Jesus will find the earthly and the heavenly will eventually diverge with one another leaving room for only one. This narrowing should be present in the life of all who have chosen to follow the Lord, to serve and love Him with their life. The narrower this path becomes, the more costly it becomes and the greater decisions we will have to make. Every pressing in of the path will challenge our faith and allegiance to God and our commitment to follow Him. You see, He spoke for you long ago, before the foundations of the earth were formed declaring that you belonged to Him. He freely gave Himself to you and to me.
Jesus said, "No one takes my life from me, I freely lay it down". Jesus' heart belonged to only One; the Holy One. There were none to contend for His spot, His place of affection in the heart of Jesus. But, this was a choice that Jesus made. God will not rob us of our affections; He will not be the thief breaking in to the heart in order to steal our love, although He longs to obtain it. He wants it only at your bidding, only by your choosing to give it to Him. This why the Father could declare about Jesus, "this is my Son in whom I am well pleased", because Jesus choose to give the Father all of Himself, every ounce of love, affection, honor and glory. It comes down to choosing love above all. Even Jesus said, "The greatest of these is love". It's the highest honor we can bestow upon the Father, bestow upon the Lord; to love Him fully.
A.W. Tozer wrote, "Please root from my heart all those things which I have cherished so long and which have become a very part of my living self, so that Thou mayest enter and dwell there without a rival." - The Pursuit of God
THE DIRECTION OF JESUS LEADS AWAY FROM ALL THAT IS EARTHLY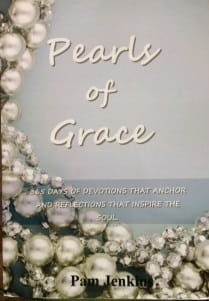 Pearls of Grace Devotional Book
Pearls of Grace is a book of devotions for the entire year, including a read through the Bible in a year calendar, broken down for every day. Beautifully written with encouraging words of hope and empowering words of joy and strength for every woman. Pam draws from the truth and richness of God's Word and gives real life examples in her down to earth style. A must have in your library, click here for more information.
For more from Pam Jenkins and Jabbok Ministries, please visit www.jabbokministries.com!
Listen to Pam Jenkins's daily broadcast on OnePlace.com.