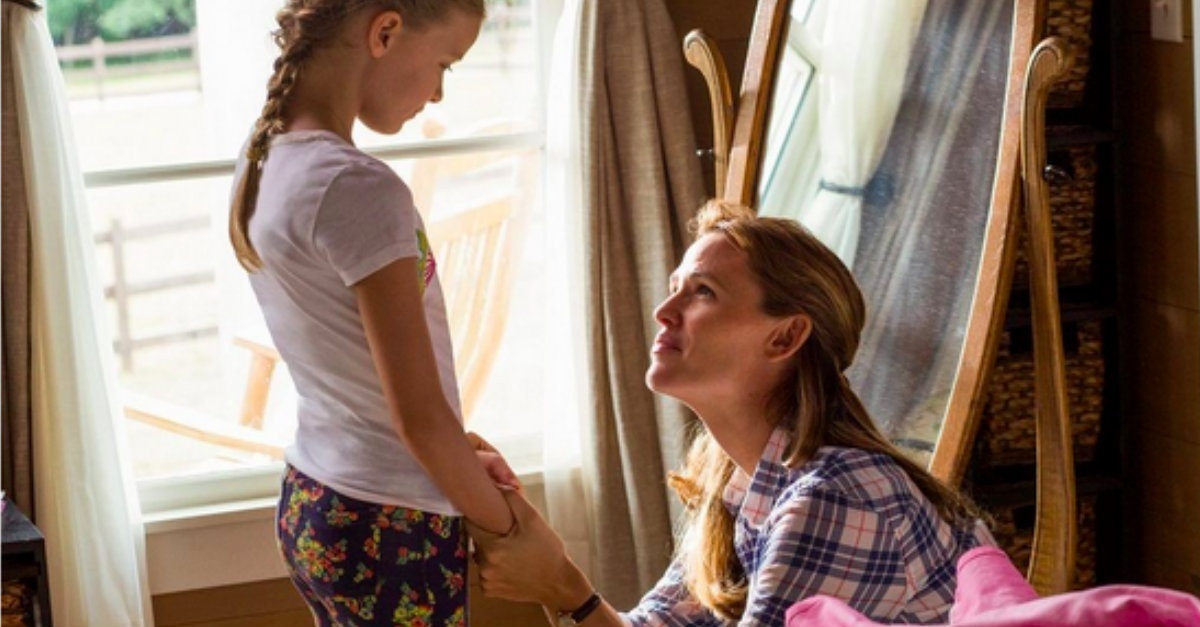 "Miracles from Heaven," a film based on the the true story of a young girl's miraculous recovery from an incurable disease, hit theaters Wednesday (March 16). The
faith
-based movie opened to $1.9 million, a respectable number in the competitive genre.
"Miracles from Heaven" tells the story of 10-year-old Anna Beam, who suffers from pseudo-obstruction motility disorder, a chronic illness that leaves her unable to eat without feeding tubes. However, Anna's life changes completely when she climbs a tree and falls 30 feet. Upon regaining consciousness, Anna recounts a visit to heaven. Inexplicably to doctors, Anna's chronic symptoms are gone.
Just this
Easter
season, "Miracles from Heaven" is competing for attention against "Risen," "The Young Messiah," and "God's Not Dead 2."
A-list actress Jennifer Garner stars as Anna's mother, which is a possible reason audiences are flocking to "Miracles" above other Christian films.
Garner even appeared with Pastor T.D. Jakes
at his church to explain the film's personal impact, and her decision to return to her childhood faith.
"I will say that being around this community, and while I've always gone to church in West Virginia, that when I got back to Los Angeles, I was talking to my kids about the movie, and they said, 'Mom you don't take us to church,' and we went that Sunday, and they went today without me. That decision was a direct gift from this movie and for that I'm very grateful," Garner said.
ComScore senior media analyst Paul Dergarabedian said, "The ones that have star power seem to do better. Having higher profile actors who are known for being in secular movies tends to give them a boost."
Gone are the days that faith-based films were low budget affairs with unknown actors. Lang reports that the upcoming remake of "Ben Hur" in particular has spared no expense in the filmmaking process. Morgan Freeman is starring alongside Jack Huston, and the Imperial Roman era is expected to be brilliantly recaptured in the film.
No religious film has yet reached the level of success of "Passion of the Christ" in 2004, but studios continue to strive to exceed its $370.8 million in domestic earnings.
"Miracles" director Patricia Riggen said she hoped her telling of the story would attract other people to the film, in addition to the predictable Christian audience.
"My hope is that people go in, have a good cry, and walk out with a renewed sense of life and of the joy of living," Riggen said. "I didn't try to make it about a religious agenda. I wanted it to be inclusive of all faiths and speak to non-believers as well."
Studios also work to promote their movies among megachurches including Rick Warren's Saddleback Church, Joel Osteen's Lakewood Church and Sherwood Baptist of Atlanta. They laboriously pitch ways to incorporate the themes of the movies with church sermons and screen still images from the films everywhere they can.
"Miracles" does have a lot of competition for moviegoers due to its timing on the market. Chris Stone, founder of Faith Driven Consumer, said, "There's a whole lot to see out there and that's going to dilute the market. Just like everybody else, I have demands on my time. None of us can go to the movies but so many times in a specific window."
Will you go see "Miracles From Heaven" in theaters? Has another faith-based film caught you attention? Let us known in the comments!
Related Video:
Carrie Dedrick is the Family Editor for Crosswalk.com.
Publication date: March 18, 2016