May 2
Where Do You Turn When You Need Direction?
"And David inquired of the LORD saying, 'Shall I pursue this band?  Shall I overtake them?'  And He said to him, "Pursue, for you shall surely overtake them, and you shall surely rescue all."
I Samuel 30:8
The world is full of vain pursuits and empty dreams.  Their voice is strong and constant to call to our desires beckoning us to pursue.  As a child of God, I am never to pursue my own dreams or make plans according to my thinking and my ideas. It's easy to get swept up in the joy of dreaming and planning for the future, but what if my dreams are not God's dream for my life?  How can I follow God and be in pursuit of making my dreams a reality?  If I belong to God wholly, then shouldn't my dreams and plans belong to Him as well?  There is a heavenly direction given for every child of God who asks for it.  God wants us to stay on track with Him.  But how do we get off track with God?  I believe one sure way is to forget that we need Him and that His plan is always perfect!
King David knew all too well what it meant to be in the center of God's will.  It meant life , victory and peace.  He was a mighty warrior and he could have easily summoned his men to follow him into any battle with no questions asked.  But what do we see this valiant commander doing?  He seeks heavenly direction first.  David knows He will prosper in anything he does as long as He is in God's perfect will.  There would be no victory if God was not with Him, and there would be no power on the battlefield if God wasn't fighting for him and his men.  King David lived dependent upon the One True King to lead him and guide him in every decision.  He was confident in his God.
We can boldly ask God for help, direction and protection, even asking Him to turn our feet away from destructive paths that will only lead to death. By seeking God's counsel, you are building a wall of protection around your life that none can penetrate and your comings and goings will be guarded at every turn. Many times we don't seek God because we fail to realize our own weaknesses.  It's often pride and the need to control that keeps us from coming to God for His leadership and help.  David knew what going into battle without God meant . DEATH.  David had a desperation to have God with him in every battle, and in every decision.
Take your pursuits to God and ask Him, just as David did, and He will give you the counsel for success.  Pursue, or not to pursue?  Many heartaches and regrets will be missed if we would simply ask God before proceeding.  You might pray something like this:
Teach me to seek You first before I act.  I can do nothing without Your favor, without Your strength and promised victory.  Lead me in the way that will yield life, that will give You praise and bring You glory. If I begin to turn to my own plans, I ask that You filter my thoughts and keep my feet firmly planted upon Your chosen path.  As long as I follow You Lord, I will never stumble, and I will be blessed.  I look to You now for guidance and I will wait for Thy Word to me.
Ask first and have no regrets later.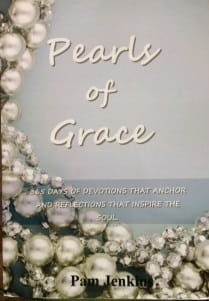 Pearls of Grace Devotional Book
Pearls of Grace is a book of devotions for the entire year, including a read through the Bible in a year calendar, broken down for every day. Beautifully written with encouraging words of hope and empowering words of joy and strength for every woman. Pam draws from the truth and richness of God's Word and gives real life examples in her down to earth style. A must have in your library, click here for more information.
For more from Pam Jenkins and Jabbok Ministries, please visit www.jabbokministries.com!
Listen to Pam Jenkins's daily broadcast on OnePlace.com.
For more from Pam Jenkins and Jabbok Ministries, please visit www.jabbokministries.com!
Listen to Pam Jenkins's daily broadcast on OnePlace.com.