Week 24
Deep Roots
They will be like a tree planted by the water that sends out its roots by the stream. It does not fear when heat comes; its leaves are always green. It has no worries in a year of drought and never fails to bear fruit. Jeremiah 17:8
Often we remember from childhood a favorite tree we climbed, played on, hid in and around . . . memorable because it was consistently dependable and sturdy. The Northwest is known for mighty evergreens, prized for durability, usefulness, and beauty. Every time I hike beneath their branches or marvel at their ability to hold tons of snow, I'm reminded of this verse. God calls His people to be like the strong tree, firmly planted in the soil of His Truth and bearing His fruit. We need to have deep roots in our faith—that means study and prayer. We also need to flower like the tree—to show our faith in the practice of our lives, to be an example of wonder to others. And we need to be sturdy in our faith—when hit by the winds and rains and lightning of doubters and deceivers we might bend ever so slightly by sheer force of the storm, but we'll never break.
Sweet Freedom in Action
Vow to ensure, through prayer, study, and practice, that your faith is as sturdy as that memorable old tree from your childhood.
---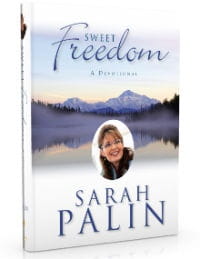 In Sweet Freedom, Sarah Palin invites you to draw strength and inspiration from 260 meditations based on guiding Biblical verses. You are not alone in your doubts and anxieties—we all bear the burdens of everyday stresses, and for most of us, our concerns spread beyond our selves to our families, communities, and country. But Palin shows that with abiding faith, and by opening ourselves to the truths that have saved mankind for generations, we can thrive—and experience true freedom.