Preparing a Place
Do not let your hearts be troubled. You believe in God; believe also in me. My Father's house has many rooms; if that were not so, would I have told you that I am going there to prepare a place for you? And if I go and prepare a place for you, I will come back and take you to be with me that you also may be where I am. John 14:1–3
If you're like me, you scrub the house like a madman when the whole tribe comes over. I prepare for them: shoveling the driveway, cooking foods I've been craving (using it as an excuse to bake my girlfriend's famous oatmeal raisin cookies), tying up work's loose ends, etc. We prepare for family and friends because we love them and want them to enjoy! That's exactly what God is doing for us—preparing a place. Jesus lets us know that He is preparing a place for us because He wants us, His faithful disciples, to be with Him. We don't get to choose our families—except for our spouse—but we do get to choose to have a personal relationship with Jesus, to love Him, to follow Him . . . all the way to heaven. When we decide to make Him Lord of our lives, only then will that place be prepared for us in His kingdom.
Sweet Freedom in Action
Rest assured Jesus is preparing a place for you in His heavenly kingdom. Vow today to be His worthy disciple.
---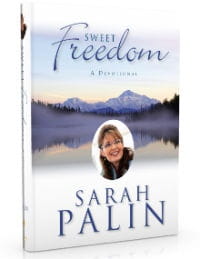 In Sweet Freedom, Sarah Palin invites you to draw strength and inspiration from 260 meditations based on guiding Biblical verses. You are not alone in your doubts and anxieties—we all bear the burdens of everyday stresses, and for most of us, our concerns spread beyond our selves to our families, communities, and country. But Palin shows that with abiding faith, and by opening ourselves to the truths that have saved mankind for generations, we can thrive—and experience true freedom.