We live as though our 'old man' is still alive, even though we are dead to him. He has no right to be in our conscious thinking. We serve a new Master who has walked us across the threshold, who has awakened us to new life, new love, to a new relationship and to an entirely different future. —Chuck Swindoll
You see them on TV and in movies. The moment they appear we know exactly what will happen next. We've gotten so used to the idea that it's always comical: Some guy is facing a moral choice and all of a sudden up on his shoulder pops a little angel of himself, and on his other shoulder pops a little devil of himself, and they start whispering in his ear, "Do this." "Oh, no, don't do that." "Oh, do that." Back and forth; back and forth while the confused look on the guy's face reveals his thoughts: What do I do, what do I do, what do I do? Yeah, it's pretty funny in dishwashing soap commercials, but in real life, when you are struggling with important choices and you think half of your spirit is pulling one way and the other half the other way, it's scary, really scary because you don't know which way you are going to go… it's also called Taoism.
Taoism is an eastern thought process that says there is a grand, cosmic, constant conflict in the universe between yin and yang, between dark and light, between good and evil. Taoism says this is not only a cosmic conflict, but it is a personal conflict that takes place in the soul of every person as well. We are half good and half bad, and it's a battle between the two every day—a war that rages continually with uncertain outcomes.
Taoism has crept its way into Christian thought, too. It sounds like this: "I'm new in Christ now, so I have this new nature, but I also still have my old sinful nature, and they are these equally powerful sources in me that battle back and forth."
Not so.
Scripture does say there is a conflict within, but it's not between two equal forces. It's not between two natures within us. Recall the words of Paul in Galatians 2:20:
I have been crucified with Christ, and I no longer live.
What does "I" mean? My old self. You can confidently proclaim, "My old self was crucified with Christ, and my old self no longer lives. But, Christ lives in me." Paul goes on:
The life I now live in the body, I live by faith in the Son of God, who loved me and gave Himself for me.
Don't get sucked into a battle that doesn't even exist! (There will be plenty of fights ahead with the world, the flesh, and Satan). Get sucked into Jesus, live by faith in the Son of God who loves you. Know who you are in Him, and trust Him to live through you!
Jesus, I don't want to fight with something that no longer exists! When temptation comes, let me face it with truth—that I am in You, perfect in my spirit because of the cross where my old sinful nature was crucified. When trials come, let me think in my heart to stand aside and let Your nature within me flow naturally. Amen.
Listen to Pete, Jill & Stuart Briscoe on the Telling the Truth broadcast at OnePlace.com
SPECIAL OFFER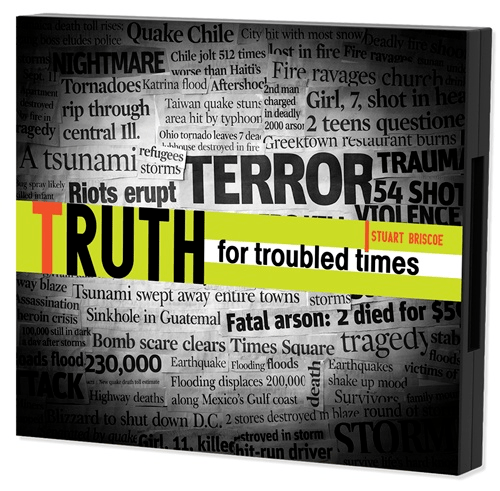 Stuart Briscoe wants to help you speak for Truth in troubled times
Get equipped to speak up for truth in our troubled culture. Request your copy of Stuart Briscoe's 5-message CD series, Truth for Troubled Times. It's our gift to thank you for your donation – which will be doubled by a Matching Grant – to help Telling the Truth reach our $400,000 financial year-end goal!