June 20
The Sojourner
…"to be at home with the Lord."
A great crowd had gathered upon the shoreline that frosty morning as a throng of cheering voices was heard over the rumble of the ship's engine.  There was much excitement on the docks as the big ship made its way into the harbor of the big city for President Roosevelt himself was aboard.  He was returning from a huge hunting exhibition in Africa and the crowd was ecstatic just trying to get a glimpse of such an important man. There were a multitude of camera's flashing, and reporters all anxious to get an interview from the president.  On board that same ship was an elderly man and woman also returning home from Africa where they had spent over forty years as missionaries there.  Weary and tired from the journey the couple looked with amazement out into the sea of faces, at the multitudes who had gathered to welcome the president home. Though the missionaries looked and looked they found none there who had come to welcome them back home after being gone for so long. 
The man was deeply saddened and shared with his wife that he could not understand why not even one person had come to welcome them home.  They had given their entire lives to the Lord's work; they had lost their two children to jungle diseases, and lived as paupers so that the Lord's Kingdom would be built.  They returned home with only a few items of necessity for they had given everything they had.  Tired and weary from their long journey, and having no home to go to they found a small hotel room to spend the night.  But rest did not come for the man for his spirit was laid very low.  The wife encouraged her bewildered husband to talk to the Lord concerning the matter.   He prayed steady through the night pouring his heart out to the Lord, sharing with Him how he could not understand why, after forty years of faithful service, not even one person came to meet them or to welcome them home.  As the sun rose the next morning the wife awoke to the sound of her husband singing.  She quickly asked him if he had spoken with the Lord about the matter.  He told her that he indeed had asked the Lord why there was no one to welcome them home and the wife asked, "What did He tell you?"  The man replied, "He told me, you're not home yet." 
How powerful is a timely word from the Lord.  The times when we need reminding that our forwarding address is not found upon the earth, for it is yonder in the heavens, and what a glorious homecoming it will be, for on the shores of glory a great gathering has already begun!   They are gathering even now, from every tribe, every nation, every tongue and on that great and glorious homecoming day they will sing with a mighty chorus, "Welcome home child –welcome home."
There will be no sorrow on that day, no loneliness to touch the heart, for there will be one face in the crowd that day that will radiant from all others, the face of Jesus, the face of the One who longs to take you by the hand and lead you across the heavenly threshold. He will not miss your arrival, for He has been anticipating even before you were born.  Heaven is your eternal home, and the earth is but a visit. It is true, that home is where the heart is.  May your heart be found looking not to the shores of the earth but to the shores of glory.  Home is where Jesus is.  
You are not home yet.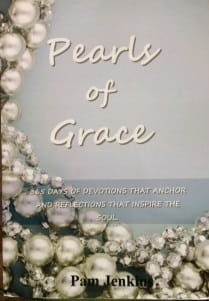 Pearls of Grace Devotional Book
Pearls of Grace is a book of devotions for the entire year, including a read through the Bible in a year calendar, broken down for every day. Beautifully written with encouraging words of hope and empowering words of joy and strength for every woman. Pam draws from the truth and richness of God's Word and gives real life examples in her down to earth style. A must have in your library, click here for more information.
For more from Pam Jenkins and Jabbok Ministries, please visit www.jabbokministries.com!
Listen to Pam Jenkins's daily broadcast on OnePlace.com.
For more from Pam Jenkins and Jabbok Ministries, please visit www.jabbokministries.com!
Listen to Pam Jenkins's daily broadcast on OnePlace.com.