July 2
Face To Face
 "…in order to be sincere and blameless until the day of Christ."
"C.S. Lewis said,
 "If I find in myself a desire which no experience in this world can satisfy, the most probable explanation is that I was made for another world."
Until the finality of seeing Jesus face to face becomes reality, our lives will be vulnerable to drift and decline to independent and self-centered living.  We will be susceptible to be drawn away from purposeful living to ordinary life among the masses.  The course of the human will must be brought under the control to the reality of the Day of Christ or we will, in the end be most sorrowful.  When was the last time you looked at yourself in the mirror and shouted the words: "Jesus is coming?"  Probably never, but what a faith motivator it would be if we would do this for ourselves once in a while.  Many of us who believe in Jesus have never made His return a reality in everyday living.  And when I say reality, I mean, living every moment with expectancy of seeing Jesus.  When this becomes real to us then we will choose our words more wisely.  We will take care with our actions, thoughts. and in how we invest our time during the day.  There will be less emphasis on things that once were so important because at the thought of being in Jesus' presence they seem to lose their value.  We will be more guarded in every area of living I believe.  Life will take on simplicity. 
Simplicity is what we desperately need in our generation today.  We live such complicated lives and even within the walls of the church we can have such complications.  At the end of the day everything we do, say, think, act upon, or involve ourselves with will be sifted through this same thought:  Was it pleasing to the Lord?  Are we right with Him in all things?  It will  not matter what others thought about us, if we got that promotion at work or not, if the heating and air system worked in the house, if the price of gas went up, if the government is going to shut down after midnight or not, if we will still have our home next year, if we get that new car, or if we were finally accepted by the 'in crowd' or not.  Nothing will matter but this one thing:  Are we right with Him in all things?  Nothing else, absolutely nothing will have importance when the trumpet sounds, or when we are taken home through physical death, except that one thing. 
When we learn to live in this simplicity of purpose, we will find a wall of strength, faith, and great stability around our everyday lives reminding us, keeping us, and motivating us to this one moment in time:  When we see Jesus in all of His glory.  It's what we do with the brief moment of time we are given upon this earth that will determine our stand before Christ when we see Him face to face.  This moment in time must become a living reality if we are to avoid lifeless living.  Meaning and spiritual drive will take over our life when our focus becomes the day we see Him and not the day at hand.  We can lose our way if we keep only today before our eyes, and yesterday in our peripheral looming over our shoulders like an ominous cloud of remorse.  When we lose sight of seeing Him then we find ourselves blinded to the things of eternity.
Set Your sights upon the East and what happens in the west won't matter.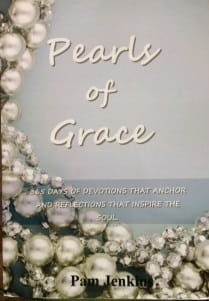 Pearls of Grace Devotional Book
Pearls of Grace is a book of devotions for the entire year, including a read through the Bible in a year calendar, broken down for every day. Beautifully written with encouraging words of hope and empowering words of joy and strength for every woman. Pam draws from the truth and richness of God's Word and gives real life examples in her down to earth style. A must have in your library, click here for more information.
For more from Pam Jenkins and Jabbok Ministries, please visit www.jabbokministries.com!
Listen to Pam Jenkins's daily broadcast on OnePlace.com.
For more from Pam Jenkins and Jabbok Ministries, please visit www.jabbokministries.com!
Listen to Pam Jenkins's daily broadcast on OnePlace.com.