July 13
Your Attitude Matters
If I've messed up and somebody's going to try to straighten me out, it sure helps if that person comes in humility. Because, immature as I still am, if I feel that somebody is talking down to me, I'll push back and do the opposite, just to demonstrate that you can't push me around.
When you see someone whose life is spiraling downward and summon up your nerve to get involved, attitude is everything. Perhaps you're so aware of your own failings that you would feel like a hypocrite getting into someone else's business, or fear that you will be rejected. Love them enough to risk their rejection. Speak with a repentant heart and a soft voice.
James reminds us, "Who is wise and understanding among you? Let him show it by his good life, by deeds done in the humility that comes from wisdom" (James 3:13). That humble wisdom doesn't come easily. If you have it, it's because you've learned some of your life lessons the hard way.
Your words may be just that much more believable if you've fallen and been helped back to your feet, if you have benefited from someone else's spiritual help.
---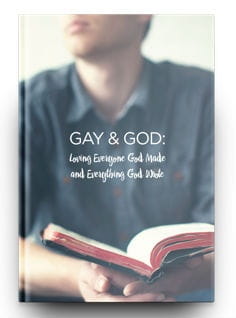 Gay & God: Loving Everyone God Made and Everything God Wrote
Jesus wanted his people to be known for their love. But sadly, love is often the last thing homosexuals find in the church.
This brand-new resource from Time of Grace called Gay & Godshows youthe deep meaning and true significance of Jesus' words, "Love your neighbor as yourself."It also teaches you what the Bible actually says on the topic of homosexuality—and empowers you to show practically the love of Christ in a culture where being gay is the new normal.
For more from Time of Grace visit them at TimeofGrace.org or visit their  OnePlace.com and LightSource.com pages!